Uninterrupted desert dreams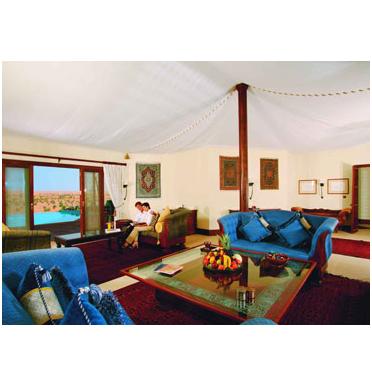 Tucked away within the 225sq km Dubai Desert Conservation Reserve, one of the largest formally protected conservation reserves in the Gulf, this gem in the desert is 45 minutes from Dubai International Airport.
 The reserve operates as a national park and is the only location in the country where visitors can experience the pristine desert and its wildlife. Speaking to Emirates Business, Tony Williams, Vice-President, Resorts and Projects, Emirates Hotels and Resorts, said: "The Al Maha Desert Resort and Spa offers a true desert hideaway experience.
 Guaranteeing complete privacy and exclusivity, the Al Maha is a perfect getaway from the hustle and bustle of modern-day city life, and is ideal for nature lovers and eco-friendly tourists who want to make a valuable contribution to conservation, while at the same time enjoy high quality service and five-star amenities."
 You can have a restful week surrounded by undisturbed desert, wildlife and the Hajjar mountain range, without having to travel abroad and going through the hassles that come with it. Reflecting old-style Arabian architecture, Al Maha (Arabic for the oryx desert antelope) is dotted with more than 2,000 rare, regional antiques, pieces of artwork, weaponry and handicrafts.
 Sandstone floors and hand-plastered walls, Arabian oryx and mountain gazelles moving across the landscapes and colourfully bridled camels go hand-in-hand with Bluetooth wireless technology and Bvlgari amenities at the resort. However, if you want to experience the best in Al Maha hospitality, then the presidential suite, priced at Dh30,849 per night is the best option.
 Williams says: "Dubai-based architectural firm Schuster Pechtold designed this suite. And the reaction of the guests when they see the suite is usually, 'wow!' There is tremendous demand for the presidential suite as awareness spreads through word-of-mouth.

The suite can accommodate six people as it has three bedrooms, two with en-suite bathroom facilities. It also has a large dining room, a lounge, a self-catering kitchen, mini-bars in each bedroom, a courtyard with open-to-air water features and a large private temperature-controlled swimming pool.
"And if you are in the mood to dine in the open then you can eat on the large wooden deck around the suite that offers uninterrupted views of the desert. It has an open bar and a private dining and barbeque area on the deck can be arranged on request."

Even though the resort maintains its three staff per room service ratio, there are rooms for any attendants that the guests want to bring along and, of course, separate quarters for security guards.
 And when you are done with sleeping off all the tiredness and tension, you can participate in on-site activities. Williams says: "Seven on-site activities are offered and luxury off-road vehicles are provided for all activities. Activities include dune safari, mountain safari, falconry and archery among others. A guest relations co-ordinator and field guide is assigned to the guest for the duration of stay."
 But the Al Maha experience is incomplete without a visit to the Timeless Spa. The world-class facility, set discreetly in a palm oasis, is integrated into the main swimming pool area, complete with bar and meal services. It includes two double and two single massage rooms overlooking private gardens and dunes, and offers complete body massage treatments. The double massage rooms, attached to the hydrotherapy and rasool therapy rooms, offer treatment for couples in total privacy.
 The spa stands in lush gardens, surrounded by cascading water features and a sunken Jacuzzi and a state-of-the-art gym. However, if you get worried about how your office is faring without you or have some pressing matters to address, there's still time to head for the Al Majlis Boardroom.
 So pack those bags and head off to this retreat in the desert.

Follow Emirates 24|7 on Google News.
Fed up with city life and long hours at the office? Want to get away from it all but don't have the time for a long holiday? Don't worry, all you have to do is pick up the phone and make a reservation at the Al Maha Desert Resort and Spa in Dubai – as long as you are willing to splash out.