Weather boosts Swiss travel amid meltdown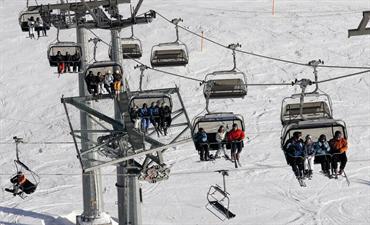 Across the Swiss Alps cash registers are ringing out as hotels, ski-lift companies and shops revel in the best snowfall in years.

After several seasons of patchy snow cover and even predictions of the end of Alpine skiing due to global warming, the winter sports industry is having a bumper year.

But beneath the smiles there is a real worry the good times will evaporate as quickly as the winter snow melts, and already there are signs this ski season may be a final "hurrah" before the global recession really bites.

That would be tough in a country where tourism makes up more than 5 per cent of gross domestic product.

Throngs of skiers are swishing down the pistes of Crans Montana in southern Switzerland, the queues at the lifts are as long as ever and the powder is deeper than many a year.

Heavy snowfalls have enticed more people than ever onto the slopes and the Swiss association of cable cars says it has seen 10 per cent more people using lifts.

"Some cable car companies at smaller resorts, such as Buerchen, have seen an increase of 20 to 30 per cent this season," said Urs Zenhaeusern, Head of Tourism in Valais, adding these areas were visited most by the Swiss and Germans.

Clothing and equipment manufacturers such as Mammut and Stoeckli, also say they have had a sensational season so far, as skiers and snowboarders update their wardrobes and equipment.

"This winter started like no other. When it snows in low-lying areas then it is really good for business as that makes people think about skiing and winter sports," said Michael Gyssler, Head of Marketing at Mammut, whose jackets can cost up to about 1,000 Swiss francs (Dh3,119).

"We ... have seen a double-digit rise in sales this winter," Gyssler said.

Ski and clothing manufacturer Stoeckli has also seen its products fly off the rails as shoppers seek high-quality goods.

The newly refurbished hotel, which looks onto the dramatic mountains of Valais, saw a double-digit rise in bookings in December and January – easily beating last year's record levels. But the number of guests started to fall in February as economic fears deepened. "Every morning when there is another crisis, people are becoming more worried and therefore more careful," Bonvin said.

So far the Swiss economy has held up better than other countries thanks to keen shoppers and low unemployment in the Alpine state, but even the Swiss will feel the pinch in coming months as the downturn eats into demand for exports.

The Swiss tourism board expects the number of overnight stays this season to be lower than last, with destinations usually popular with visitors from the US and Britain hardest hit. The board has even asked parliament for cash for extra marketing.
Follow Emirates 24|7 on Google News.