US hedge funds gain but lag broader stock market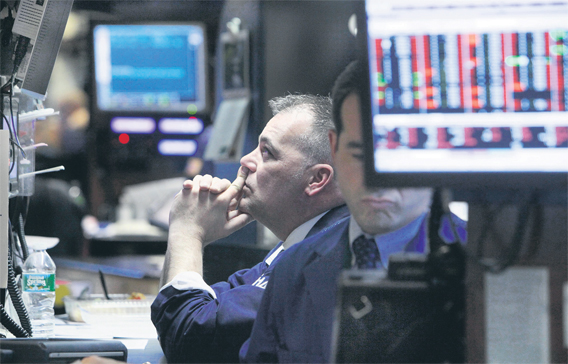 Global hedge funds chalked up small gains in February but lagged the broader US stock market as many fund managers exercised caution amid worries about the strength of the economic recovery.
Hennessee Group, an advisor to hedge fund investors, said its Hennessee Hedge Fund Index rose 1.2 per cent last month after dipping 0.5 per cent in January. The Standard and Poor's 500 Index rose 2.9 per cent in February.
February's gains pushed hedge funds into the black for the year, leaving them up 0.6 per cent, Hennessee said. The S&P 500 index was down one per cent over the first two months of 2010, the Hennessee numbers show.
Hedge Fund Research Inc (HFR), another firm that tracks hedge fund performance, said its benchmark hedge fund index posted a more modest 0.52 per cent gain in February after losses in January. But fund investors were still down 0.18 per cent for 2010, it said.
Monthly performance numbers are closely watched in the $1.9 trillion (Dh6.97trn) hedge fund industry, where closely held funds are not required to report their assets under management or performance.
HFR said the most successful funds this year have been multi-strategy relative value funds, which are up 2.77 per cent.
The top funds in February were quantitative directional funds, up 2.06 per cent.
Global macro hedge funds that take big bets on currencies and sovereign debt rose 0.75 per cent in February but remain down one per cent for the year, according to HFR.
Some of the industry's best known funds delivered gains last month, people familiar with their performance said. Maverick Capital, whose founder Lee Ainslie got his start in the business by working for famed Tiger Management legend Julian Robertson, gained five per cent in February, the sources said.
Leon Cooperman's Omega Advisors rose three per cent, and Andreas Halvorsen's Viking Global Investors gained nearly two per cent, the sources said.
John Paulson, whose credit funds reaped billions of dollars betting that housing prices would drop in 2007, saw his newly launched gold fund gain 10 per cent last month after having started off the year with a 14 per cent drop in January, the sources said.
Hedge funds on average outperformed the benchmark Barclays Aggregate Bond Index last month, which rose 0.4 per cent.
Industry analysts had expected long-short equity hedge funds to fare best, though many grew cautious after getting hit by the stock market sell-off in late January.
Keep up with the latest business news from the region with the Emirates Business 24|7 daily newsletter. To subscribe to the newsletter, please click here.
Follow Emirates 24|7 on Google News.