Arab women still face social and financial barriers: UN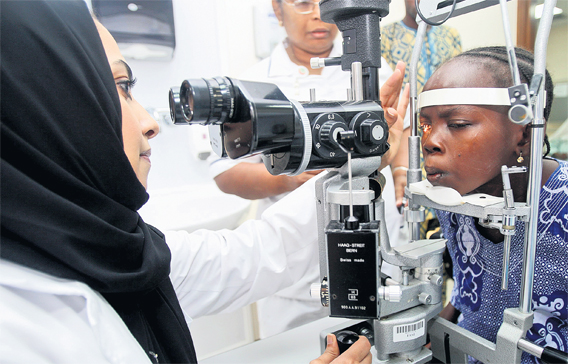 Arab nations have made headway in efforts to turn women into economically active citizens but females are still suffering from social and financial barriers and their job participation has remained the lowest in the world, according to the United Nations.
Women are still confined to specific jobs while they are deprived of most financial and economic resources available to men in the Arab World, the UN Economic and Social Commission for West Asia (ESCWA) said in a study.
A vast majority of women in ESCWA's 14 Arab members are not economically empowered and the problem can be resolved only if they are viewed as equal to men, the Beirut-based UN group said in its 45-page study.
Although female economic activity in the Arab region has increased steadily in the past few decades, it remains low when compared with the rest of the world, said ESCWA, which groups the six-nation Gulf Co-operation Council (GCC) and eight other Arab countries.
As the International Labour Organisation (ILO) has noted, in the past decade, while the Arab region has experienced a 7.7 per cent increase in the number of women in the labour force – the largest change seen in any region in that period – women constitute only 33.3 per cent of the labour force, it said. This percentage is significantly lower than that seen in any other region and leads to high levels of economic dependency, it added.
Mismatch
It noted that the mismatch between the needs of the local labour market and the fields of specialisation in which women cluster poses a major problem for the education of women in the Arab World.
The study said certain disciplines such as nursing, teaching, social services and secretarial work have become "feminised", because they are perceived by society as being particularly compatible with the nature of women.
Even when women move into professions that were traditionally a strictly male preserve, such as medicine, they tend to specialise in areas for which they are considered to have a "natural" disposition, such as paediatrics or obstetrics, rather than surgery or orthopaedics, the ESCWA said.
"The vast majority of women in the Arab region remain economically unempowered. The empowerment of women, whether social, political or economic, will only be achieved when Arab women perceive themselves and are perceived by all members of society as equal citizens with the same rights and responsibilities as men.
"Gender-based barriers hinder such empowerment by failing to grant women equal citizenship rights with men," it said. "Such barriers fall within two broad categories: social institutions and cultural practices, and access to economic and financial resources."
Access to resources
According to the study, economic and financial resources are among the most important variables affecting the empowerment of women in the region.
"Having access to and control over them is enshrined in the Universal Declaration of Human Rights, thus forming part of the citizenship rights of women. Once attained, such economic and financial resources not only improve the status of women, but also contribute to accelerating the development process at the macro level," it said. "The situation prevailing in the ESCWA region does not, however, reflect this state of affairs. Despite the significant improvements in education seen in the region, rising levels of female participation in the labour force, a gradual recognition of the rights of women in national legislation and the ratification of international conventions on the matter, the pace of change remains not merely slow, but uneven between member countries. Indeed, in the Arab World, generally, rights are more closely associated with men and duties with women."
Such underlying assumptions extend to the ownership of economic resources, adding that even if women are legally entitled to land, they often cede it to their brothers as a result of the belief that it should remain in the family name.
"The same logic applies in relation to household property, which is generally registered in the name of the man, even if his wife has made a financial contribution to its acquisition," the ESCWA said.
"There are occasional instances in which the head of the family visits the employer of his wife, daughter or sister at the end of the month to collect her salary. Consequently, even if women join the labour market and earn an income, they are not necessarily empowered; they may still feel economically insecure and find that their access to credit is limited due to a lack of collateral."
Role of banks
Turning to banks, the ESCWA considered them as the principal source of financing in the region but said they are generally conservative in granting loans, which are predominantly distributed to large private or state-owned enterprises.
Furthermore, in many countries a significant proportion of bank credit is allocated for the purchase of treasury bills and government bonds, leading to a lower pool of credit available to the private sector, it said.
This, in turn, compels small and medium-sized enterprises to resort to self-financing, either through retained earnings or savings from friends and family.
"This is particularly notable in the case of female-owned enterprises, since, in addition to financial supply constraints, women entrepreneurs are generally more risk-averse than their male counterparts."
Lagging behind
The study concluded that in absolute, but not relative terms, and despite substantial progress in recent years, women in the ESCWA region continue to lag behind the rest of the world in their participation in the labour force and educational attainment. It noted that with few exceptions, they have not succeeded in attaining decision-making positions in either the private or the public sector and are still primarily viewed as homemakers and care providers.
"More significantly, women themselves feel responsible for such care and continue to provide it, to their own detriment in terms of leisure time, personal care needs and paid employment," it said.
"At the heart of the problem is the fact that women are being encouraged to enter the labour market and become income-generating members of their communities, thus assuming the dual role of breadwinner and homemaker, yet do not receive any assistance in managing their increased responsibilities.
"Husbands expect their working wives to share family expenses, yet are unwilling to bear their part of the other duties that burden their wives. This is also ignored by governments, neither included nor measured in national accounts and considered as a natural extension of the reproductive role of women."
According to the ESCWA, policies continue to assume that women's unpaid time is "free" and involves no significant opportunity costs that are worthy of consideration in policy formulation.
"Given this reality, it is imperative that policy measures be formulated and adopted to ensure that the economic contribution made by women in the ESCWA region is both recognised and strengthened, in view of its positive impact not only on women, but on the economy and society at large," the report said.
"A tripartite approach under the combined aegis of governments, civil society and international organisations is therefore necessary."
WOMEN IN ESCWA WORKFORCE
Female participation in labour force (%)
GCC 2004 2005 2006 2007
UAE 14 14 14 15
KSA 14 14 15 15
Kuwait 23 23 24 24
Qatar 15 15 15 15
Bahrain 21 21 21 21
Oman 18 19 19 20
GCC Non
Egypt 25 25 25 25
Jordan 16 17 17 17
Lebanon 25 25 25 26
Syria 20 20 20 21
Yemen 23 24 25 14
Palestine 16 17 17 17
*Source: ESCWA
ESCWA members: UAE, Bahrain, Egypt, Iraq, Jordan, Kuwait, Lebanon, Oman, Palestine, Qatar, Saudi Arabia, Sudan, Syria, and Yemen
Women in THE UAE's workforce
According to a report submitted by the UAE to the Convention on the Elimination of All Forms of Discrimination against Women (Cedaw) Committee in 2008, the number of female citizens aged 15 years and above in the workforce increased more than three-fold between 1995, when it stood at 15,729, and 2006, when it had risen to 49,000.
Women are present in all federal ministries and predominate in the Ministry of Education (63.7 per cent), the Ministry of Health (66.3 per cent), the Ministry of Higher Education and Scientific Research (57.1 per cent) and the Ministry of Social Affairs (75.4 per cent).
The government has also launched a series of initiatives aimed at strengthening the role of women in the business sector, including the establishment of councils of business women and the creation of an Emirates award for businesswomen. It is estimated that $3.8 billion (Dh13.94bn) is currently invested in businesses run by over 11,000 women across the country.
What governments should do
The recommendations of the UN Economic and Social Commission for West Asia (ESCWA):
- Undertake the collection and interpretation of gender-disaggregated data on employment, working conditions, earnings and time use, using identical definitions and research methodologies. This would facilitate the formulation of sound policies at both the country and regional levels, and provide credibility and reliability for inter-country comparisons
- Introduce legislation to ensure equality between men and women in access to decent work and provide the necessary tools for the implementation of such legislation
- Scrutinise domestic legal frameworks and repeal all discriminatory laws regulating ownership of resources, including, but not limited to, land, credit, education, market knowledge and technology
- Move beyond merely ratifying international conventions and ensure their full implementation
- Improve the image of women as depicted in school textbooks by challenging gender-stereotyped division of roles and emphasizing the fact that men and women should share productive and care tasks
- At the educational level, it is imperative to ensure that the skills possessed by women reflect market needs, as the provision and regular updating of vocational and learning skills would clearly increase women's chances of securing paid employment. Such provision should not merely be the preserve of urban women, but should be extended to women in rural areas and adapted to their needs, given the discrepancies – both quantitative and qualitative – that prevail in this domain between urban and rural areas
- Optimise use of the media to increase universal awareness of the importance of women as agents of change and development
- Involve women in the political life of the country by increasing their participation at the legislative, executive and local levels, thus enabling them to collaborate in both drafting and ensuring the implementation of policies related to the well-being of women in particular and society in general
- Promote social policies that would enable women to achieve an optimal balance between paid employment and care responsibilities
- Provide a supportive infrastructure, in terms of improved transportation, telecommunications, electricity and water supply, as this will facilitate the participation of women in the public sphere by reducing the heavy domestic burden which they bear, particularly in rural areas
- Ensure equal access to health services and social security schemes for all women, whether rural or urban
- Adopt gender-responsive budgeting systems. Such budgetary procedures require senior finance officers in ministries to be trained on gender budgeting and gender performance auditing, thus broadening their awareness of gender issues and increasing their capacity to deal with them effectively
- Ensure that recruitment procedures adopted by civil service agencies do not discriminate against women
- Create an Arab economic observatory for women in order to monitor the changes achieved in each Arab country
Keep up with the latest business news from the region with the Emirates Business 24|7 daily newsletter. To subscribe to the newsletter, please click here.
Follow Emirates 24|7 on Google News.