Fiscal, monetary policies help Saudi weather crisis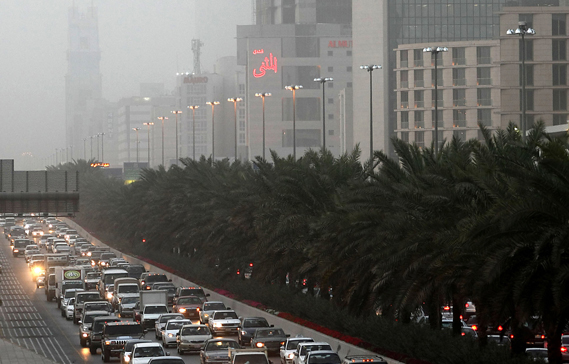 Saudi Arabia has weathered the storm of the financial crisis well due to timely and appropriate fiscal and monetary policies that have helped to support growth and the stability of the financial system.
Real GDP growth was 0.2 per cent in 2009 and will accelerate to 3.2 per cent this year, said a study released yesterday. "The key drivers behind our macro view are a sustained global recovery and the associated higher oil prices, continued expansionary fiscal policy and the resumption of local bank lending, easing financing constraints on the private sector. We forecast nominal GDP will reach SR1.5 trillion (Dh1.4trn) this year," said Shuaa Capital, a Dubai-based investment bank, in its Saudi Vision 2010 report.
Shuaa estimated 26 per cent growth in Saudi corporate earnings in 2010, boosted by significantly expanding earnings in the petrochemical sector, which was the main culprit behind the lower aggregate growth in 2009. Coming from a low base, it forecasts an increase of around 90 per cent in the sector's aggregate earnings.
For the year ahead, Shuaa expects continued recovery for listed Saudi petrochemical companies', yet the road to recovery may be paved with hurdles.
Irrespective of global demand levels for this year, Asia, and China specifically, will constitute a bright spot for oil demand. Despite an anticipated strong recovery in the petrochemical sector's aggregate earnings, Shuaa forecast for circa 90 per cent increase year on year in 2010, as supported by Q4 2009 results.
Much of the positivity is already priced-in, leaving the sector with limited upside potential in 2010, said Shuaa report.
After 2008's turmoil, the Saudi banking industry managed 2009 with great prudence and caution in anticipation of unsuspected asset quality deterioration. Despite a strong rise in NPLs during the year, Saudi banks were capable of showing great resilience.
For 2010, Shuaa believes Saudi banks' earnings have the capacity to grow by about 31 per cent on the back of 10 per cent and 12 per cent growth for deposits and loans respectively. This should act as a strong support to interest-related revenue generation, with volume effect offsetting an expected contraction in net interest spreads.
Saudi telecom sector revenues increased 7.5 per cent in 2009 to SR52.3bn, marking the end of the double digit growth era. It estimated the mobile segment, which constituted 80 per cent of Saudi's telecom sector, delivered 10 per cent revenue growth in 2009. On the other hand, it calculate the fixed line segment's top-line remained flat year on year in 2009.
Saudi Arabia's active mobile penetration reached approximately 149 per cent in 2009 and has room to grow towards 160 per cent in 2010, it said.
"We forecast the Saudi telecom sector to grow by six per cent in 2010. Mobile data and broadband Internet will be the growth drivers of the sector," it said.
Banks ease lending
Saudi bank credit to the private sector edged up 0.2 per cent in January, official data showed, raising hopes lenders were becoming less cautious in the country.
Bank credit to the private sector rose to SR709.8 billion (Dh695bn) in January after SR708.77bnin December, the Saudi Arabian Monetary Agency (Sama) said.
Including investments in private securities, credit was SR735.63bn in January after SR734.24bn in December. Annual money supply as measured by M3, the broadest benchmark of money circulating in the economy, eased to 8.3 per cent after 10.7 per cent in December.
M3 stood at SR1,005.6bn in January after SR928.427bn in the same month a year ago and SR1,028.9bn in December, the data showed. Annual inflation inched down to 4.1 per cent in January from 4.2 per cent in December after a drop in home rents index.
Keep up with the latest business news from the region with the Emirates Business 24|7 daily newsletter. To subscribe to the newsletter, please click here.
Follow Emirates 24|7 on Google News.