China to expand yuan trade settlement trial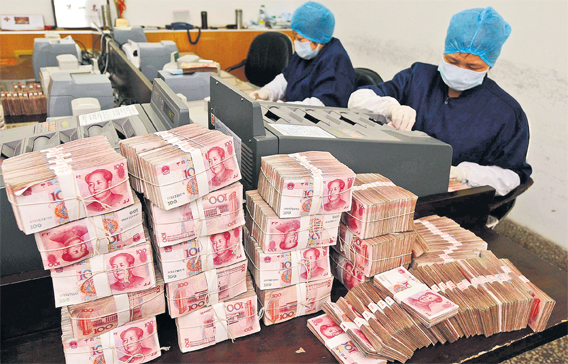 China will expand a trial scheme allowing some firms to settle trade deals in the yuan currency, as businesses seek to control exchange rate risks, an official newspaper reported yesterday.
Beijing launched the pilot programme last year allowing selected regions and countries to pay for imports and exports in yuan, a move heralded as a step towards relaxing controls and eventually internationalising the Chinese currency.
China said the scheme would initially be limited to certain areas, including Hong Kong and Macau, outside mainland China, and to selected firms in Shanghai and China's main export province, Guangdong, in the far south.
The Southern Daily, the official newspaper of Guangdong, has now reported that some of those limits will be eased in an effort to consolidate the scheme.
"Recently, the relevant government authorities have agreed to no longer restrict the areas outside [mainland] borders that may engage in cross-border trade settlement in Renminbi," said the report, citing a recent meeting of Guangdong officials.
The Renminbi, or RMB, is another name for the yuan.
"Firms qualified to engage in trade in the trial areas can all engage in Renminbi trade settlement for imports," the report added.
The report did not mention exports as part of that relaxation. Nor did it say explicitly whether the relaxed rules applied to Shanghai.
The reported consolidation of the trial programme comes while Chinese officials and companies are grappling with pressure, especially from the United States and the European Union, to let the yuan rise in value to relieve their own exporters and so reduce their big trade deficits with China.
The report did not directly link the yuan settlement move to those pressures. But Zheng Jianrong, a deputy head of the Guangdong trade office, told the newspaper the rules would help trading firms cope with foreign exchange rate worries.
"Using the Renminbi as the currency for settlement helps domestic firms avoid exchange rate risks, and helps to reduce their foreign exchange transaction costs," said Zheng.
Under the programme, Chinese importers and exporters in selected areas can apply for the right to sign agreements with banks to use yuan to settle trade deals. Chinese banks in these areas then arrange contracts with banks outside the mainland to support the offshore yuan settlements.
"The trial firms will no longer be restricted geographically," said Luo Bochuan, a Chinese central bank official based in Guangzhou.
Keep up with the latest business news from the region with the Emirates Business 24|7 daily newsletter. To subscribe to the newsletter, please click here.
Follow Emirates 24|7 on Google News.