China wary of boosting gold holdings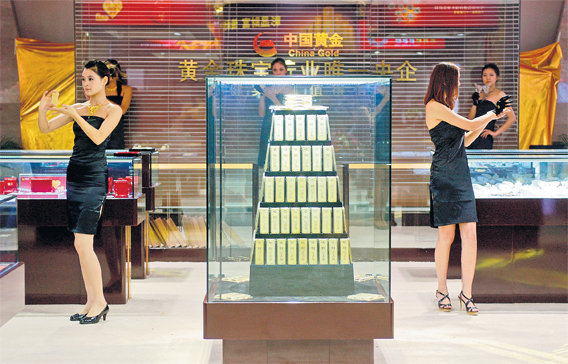 China, the world's biggest holder of foreign exchange reserves, renewed its commitment to the US Treasury market yesterday but said it would be wary of substantially boosting its gold holdings.
The country's chief currency regulator said China would attract more capital inflows this year, partly reflecting expectations of a stronger yuan, but he left the market none the wiser as to when Beijing might let the currency resume its rise.
"The US Treasury market is the world's largest government bond market. Our foreign exchange reserves are huge, so you can imagine that the US Treasury market is an important one to us," said Yi Gang, head of the State Administration of Foreign Exchange.
The exact composition of China's $2.4 trillion (Dh8.8trn) of reserves, the world's largest, is a state secret and the subject of intense scrutiny by global investors aware that, with such large sums at stake, even marginal portfolio shifts have the potential to move markets. Global investors are equally attuned to any clues about the yuan, given its role in China's trade with the rest of the world and the potential spill-over effect a stronger yuan would have on other currencies in Asia.
Speaking during the annual session of parliament, Yi expressed the hope that China's presence in the US Treasury market would not become a political football. China, he stressed, was not in the game of short-term currency speculation.
"It is market investment behaviour, and I don't want it to be politicised," he said. "We are a responsible investor, and we can surely achieve a win-win result in the process of investing."
Yi dampened hopes of gold bulls that China might be itching to add to the 1,054 tonnes of the metal in its reserves. On a 30-year horizon gold was not a great investment, he said, and China would simply drive up prices if it piled into the market. "It is, in fact, impossible for gold to become a major investment channel for China's foreign exchange reserves. I have 1,000 tonnes now, and even if I doubled that holding, according to current prices, that would be about $30 billion," Yi said.
The bullion price fell $3 an ounce yesterday morning to $1,121, but that reflected unwinding of speculative bets linked to Greece's debt woes rather than disappointment over Yi's remarks.
Keep up with the latest business news from the region with the Emirates Business 24|7 daily newsletter. To subscribe to the newsletter, please click here.
Follow Emirates 24|7 on Google News.