Weak consumer demand affects French recovery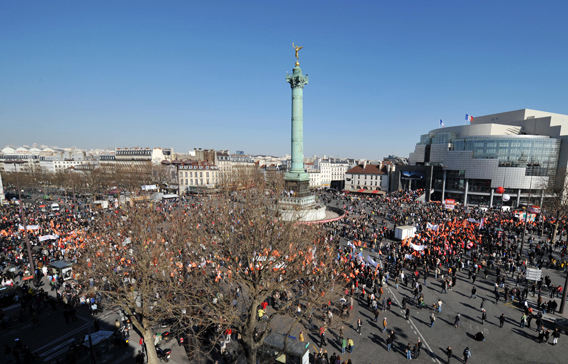 The French economy suffered its worst downturn since the Second World War last year, data yesterday confirmed, leaving doubts over the strength of the expected recovery in 2010.
National statistics office Insee confirmed preliminary estimates that French domestic product rose 0.6 per cent in the last three months of the year from the previous quarter, putting the fall of gross domestic product (GDP) for the year to 2.2 per cent.
Consumer spending, the mainstay of the French economy, underpinned fourth quarter growth but Tuesday's data also showed deteriorating consumer purchasing power and analysts warned that demand is fragile, raising doubts over 2010 growth forecasts.
The French government pumped billions of euros into the economy last year in a bid to dampen the impact of the crisis, offering tax breaks and premiums including a popular subsidy to encourage consumers to scrap old cars for new models.
But the measures are gradually being eased out this year, removing one of the props that has held up consumer demand in the face of growing worries over rising unemployment and strained public finances.
"Consumer spending is an artificial component in this growth picture, as we know the rise was down to the scrappage premium," said Alexander Law, economist at Paris-based consultancy Xerfi.
"Purchasing power slowed down extremely markedly in the fourth quarter and I can't see that many factors that could sustain growth in the coming months," he said.
Insee last week cut its forecast for first quarter growth to 0.2 per cent from a previous estimate of 0.4 per cent, warning of weak consumer demand this year, in a move which highlighted the risks to the government's official 1.4 per cent growth outlook.
Yesterday's data showed household consumption rose by an upwardly revised one per cent compared to the previous quarter, after posting meagre growth of 0.1 per cent between the months of July and September.
But household purchasing power increased by just 0.2 per cent in the final quarter of the year, compared to growth of 0.5 per cent in the third quarter.
Slower stock reduction by French firms also helped boost fourth quarter GDP – stocks contributed 1.0 percentage points to GDP growth between October and December, after making a negative contribution in each of the previous three quarters of the year.
Follow Emirates 24|7 on Google News.