Kuwait money supply growth up 10.1% in Jan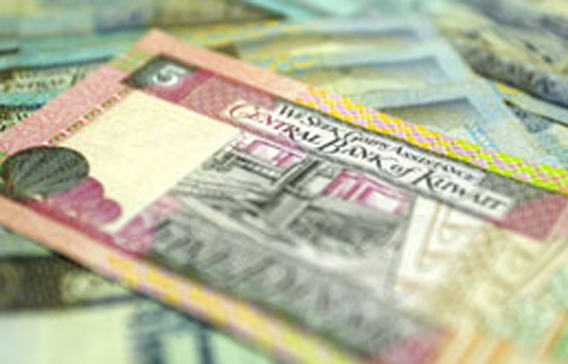 Kuwaiti money supply growth (M3) accelerated to 10.1 per cent at the end of January, from 13.1 per cent the previous month, data showed yesterday.
M3, the broadest measure of money circulating in the economy, rose to KD25.1 billion (Dh319bn) in January, compared with KD22.8bn a year earlier, the central bank said in a monthly bulletin.
Narrow money or M1, rose 6.4 per cent to KD5bn. Quasi money – which includes savings and time deposits in dinars as well as foreign currency deposits – rose 11 per cent to KD20.1bn, the data showed.
Banks' total claims on the private sector, which also includes their local investments, increased 5.1 per cent in the year to January to KD27bn. Total credit facilities concluded with residents fell 16.3 per cent in the year to January to KD706.9 million – down from KD844.2m in December.
Data from the finance ministry showed that Kuwait's budget surplus widened to KD8.02bn in the first ten months of its 2009-10 fiscal year due to oil income that was higher than forecast.
Oil price recovery from last year's lows is helping Gulf oil exporters boost budget revenues, allowing them to keep fiscal stimulus packages in place at a time when other countries consider spending cuts.
Kuwait, the world's fourth-largest oil exporter, booked a budget surplus of KD6.78bn in the same period of its previous, 2008-09 fiscal year. The figure stood at KD7.2bn in the first nine months of the current fiscal year.
Revenues were KD14.72bn at the end of January, about 182 per cent of the figure budgeted for the whole fiscal year. Oil revenue came in at KD13.93bn and spending was at KD6.69bn.
Keep up with the latest business news from the region with the Emirates Business 24|7 daily newsletter. To subscribe to the newsletter, please click here.
Follow Emirates 24|7 on Google News.