$2bn Arab initiative to battle global credit crisis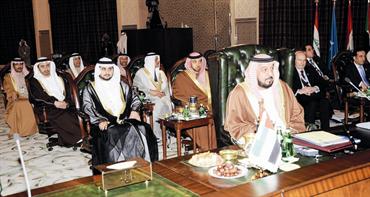 The Amir of Kuwait Sheikh Sabah Al Ahmad Al Jaber Al Sabah, inaugurated yesterday the two-day Arab Economic, Development and Social summit at Al Tahreer Palace.

President His Highness Sheikh Khalifa bin Zayed Al Nahyan, headed the UAE delegation at the inaugural session.

Sheikh Sabah announced a $2 billion (Dh7.34bn) Arab development initiative to provide financial resources for financing and supporting small and medium enterprises (SMEs). In his opening address, Sheikh Sabah said Kuwait would contribute with $500 million of the capital of this initiative, which aimed at providing financial resources necessary for financing and supporting SMEs.

This initiative, he said, would be managed by Kuwait-based Arab Fund for Economic and Social Development (AFESD), which represented a distinguished milestone of the Arab corporate work through a board of trustees from participating countries to draw programmes of this initiative, provide necessary financing tools and guarantee sustainability of its operations thus achieve anticipated objectives.

Sheikh Sabah said he was looking forward for contributions from Arab countries.

This initiative, the Amir of Kuwait hoped, "will be a vital source for enhancing Arab corporate work, and enhancing the role of the Arab private sector".

World Bank President Robert Zoellick told Arab leaders that he would push for a special emergency fund to help the world's poor developing countries that cannot afford bailouts in times of crisis.

Zoellick said he would raise the issue in April at a meeting in London of the so-called Group of 20, a club of key wealthy and developing nations.

"As part of the global response to these dangerous times, I will be urging the G20 to support a 'vulnerability fund' to assist developing countries that cannot afford bailouts and deficits," he said in the text of remarks prepared for delivery at an Arab League Economic Summit in Kuwait.

The fund, he said, would help finance "investment in infrastructure projects that can create jobs while building a foundation for future productivity and growth".

It would also help provide financing for small- and medium-sized enterprises to help with job creation, he said.

The World Bank President added that the economic crisis had turned into an unemployment crisis for some of the Arab states.

Zoellick said that even though the Arab World has historically been poorly integrated into the global economy – apart from its role as an oil provider – it has been feeling the impact of the global financial crisis.

Meanwhile, Kuwait's Finance Minister Mustafa Al Shimali stressed that the Arab Economic Summit to kick off here Monday was important for the Arab people.

Speaking to Kuwait Television, Al Shimali said the summit was a courageous step proposed by the Amir of Kuwait and Egyptian President Hosni Mubarak, who provided a proposal on holding an economic summit at the summit of Riyadh two years ago.

He said the private sector would be a major partner in development if it was given the opportunity to, giving an example of Gulf Investment Corporation that funded several infrastructure projects including power plants in a number of Gulf countries, and calling the private sector to invest more in Arab countries.

Projects presented at the summit were related to agriculture, education, investment, and combating poverty and unemployment, he pointed out.

He demanded activating laws and regulations and unifying them because investment requires trade among Arab countries.

"Investment needs a good business environment," he said.

The minister said he believed the summit would certainly succeed, saying it was a message to the world that Arabs are co-operative, serious in investment, and have great abilities and an economic weight.

He added that Kuwait has oil and petrochemical abilities that enabled it to compete with large oil countries.

Meanwhile, Al Shimali said that the Gulf Co-operation Council (GCC) showed that despite the minor policy differences, countries were able to reach some goals such as the execution of the electricity linkage project and the customs union.

The Arab leaders began their Economic summit "In Solidarity with the Palestinians in Gaza" yesterday with the focus on boosting inter-Arab economic and social integration and how to help with the reconstruction of Gaza Strip, where more than 1,300 Palestinians were killed and around 5,000 were wounded in Israeli aggression that lasted for more than 22 days.

The summit, the first-of-a-kind since the establishment of the Arab League, will set up a clear "roadmap" for Arab economy and all related social and developmental issues.

Leaders of 22 Arab countries will address daily concerns of the Arab citizens such as poverty, hunger, health, education, railway network and electricity linkage, fighting unemployment, establishing a custom union, food and water security.

United Nations Secretary-General Ban Ki-moon, who arrived in Kuwait for the summit, had appreciated Kuwait's initiative to host such a summit.

The Arab Economic Summit draft resolutions include a number of items, notably the Israeli aggression on the Palestinian people in Gaza Strip and its repercussions.

The draft resolutions of the summit praised the efforts of the private sector in supporting joint Arab action and inviting the private sector to continue contributing to Arab economic development.

The resolutions called for supporting the private sector in its execution of national economic development projects and joint Arab projects to boost joint Arab economic action.

They encouraged the private sector to execute the resolutions of the summit in co-operation with the Arab League.

In addition, the draft resolutions called for activating the role of the civil society in the economic, social, and development fields and boosting partnership with its organisations and corporations to achieve the development, social, and economic goals.

They called for supporting the efforts of Arab civil society organisations regionally and internationally and their activities to stress the Arab cultural identity.

The draft resolutions also include the Arab power link projects, plans to connect the Arab World through railways network. The conference will discuss an emergency programme of Arab food security, Arab Custom Union, Arab Water Security, full employment programme, reduction of unemployment and curb of poverty.

Speaking at the inauguration of the summit, Syrian President Bashar Al Assad, as Chairman of the current Arab round of talks, said that the economic relations were parallel to good political relations, and he said that fluctuation in Arab relations "cannot lead to healthy economic relations".

He said the greater Arab trade zone was only a step toward integration and would remain limited if it was not followed up.

The summit, he added, came at a time when the world was facing an economic crisis, and as part of world economic order, Arab states would be affected in some way by this financial meltdown.

"Integration will ensure reduced losses for Arabs and provide cover from any future crises, redirect Arab investments to their natural place and achieve development," he said.
Follow Emirates 24|7 on Google News.