$30bn franchise sector set to register steady growth in the UAE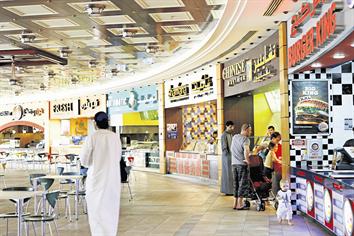 The UAE represents $30 billion (Dh110bn) of the global $4 trillion franchise business, and the sector is expected to grow steadily in the region in 2009, said experts at the Franchise Middle East exhibition in Dubai yesterday.

"Franchises in the UAE and the region, especially in the food sector, will continue to grow but at a more steady pace for the year 2009 compared to last year due to the global financial crisis," said Mohammed AR Falaknaz, Vice-President of International Expo-Consultants – a member of Dubai-based Falak Holding.

"In 2008, we had a growth rate of 25 per cent and we were expecting more than 100 participants this year. Last year we had 73 participants from 20 countries and this year there are 72 participants, but from 22 countries – so it is almost the same and we consider that very good under the current circumstances."

This year's Franchise Middle East exhibition was inaugurated by Sami Al Qamzi, Director-General of the Dubai Economic Department. The event is now in its sixth year. The UAE, with 19, had the maximum number of participants. There were eight from the US, six from Singapore and four from Kuwait. Participants also came from several other countries in Europe and Asia.

"We cannot ignore the fact that the economic crisis is making many companies and investors rethink and review their investment plans. We believe the year 2009 will not be a year of expansion but one of consolidation," said Falaknaz.

Franchising could enable minimising the risks for a business. Franchising offers people new concepts and ideas to carry on their business, especially in tough times, he said.

"According to a study done by the International Franchise Association, 50 per cent of businesses conducted in the UAE and the region are expected to be franchise businesses in a few years, with the food sector taking up a share of up to 60 per cent," said Falaknaz.

Food-related exhibitors represented 35 per cent of participants at the event, besides a variety from other sectors such as services, consultancies and furniture.

Matthew R Shay, President and Chief Executive Officer of US-based International Franchise Association, said the UAE and the GCC "are promising for franchising despite the current financial slowdown worldwide".

"I believe this year's exhibition in Dubai is very good considering the global situation – we have almost the same number of participants but from more countries," said Shay. "In a global economy in recession, this would be a wonderful time for franchising. When the unemployment rate rises, many people invest in a franchising business. Higher unemployment rates generate opportunities of improved markets for expansion of franchises."

On how investors would get financing with stricter lending measures at banks, he said: "Things are complicated with the lack of credit availability. From our perspective, it is a credit crisis worldwide since with the absence of access to credit, franchise businesses may have a difficult time expanding and financing deals. So, a lack of credit is the most significant challenge facing global franchise development."

Shay believed when the credit crisis is resolved there would be significant growth in franchising. "Many executives and corporate employees who have lost their jobs and are not able to get back to top corporate positions will have an opportunity to invest in the franchising business," he said. "To my knowledge, the volume of the franchise business in the UAE is estimated to be $30bn; in the US it is $1trn. But worldwide, roughly, the sector is $4trn," said Shay.
Follow Emirates 24|7 on Google News.