Ajman unveils conference to attract foreign investors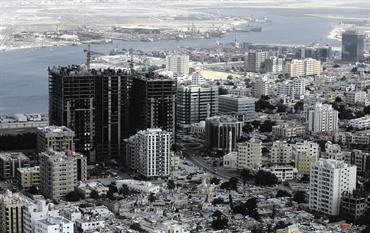 Ajman is working to attract global investment by drawing up appropriate plans and strategic initiatives through close observation of global economic trends, said a top official of the emirate yesterday.

Announcing the first International Economic Conference (IEC) in Ajman at a press conference yesterday, Sheikh Mohammed bin Abdullah bin Sultan Al Nuaimi, Director-General of Ajman Ports and Customs Department (APCS) and Ajman Free Zone Authority (Afza), said that realising the importance of participating in global efforts for economic recovery, the emirate drew up a strategy to be an active player in this regard.

The Ajman Government is also focusing on placing the emirate on the world's economic map, he said.

"Following the global economic downturn, we are seeing changes and new challenges and a subsequent increased competitiveness," he said. "In such an economic environment, we need a close observation and analysis in drawing up the strategies."

The IEC is aimed at planning , business development and creating strategies to help implement crucial economic decisions, not only for the emirate but also regionally and globally, at a time when the world economy is showing signs of recovery from the crisis.

It will provide an opportunity to discuss how to meet the challenges ahead and develop scientific practices to strengthen the emirate's economic approach, said Sheikh Mohammed.

Regional and international economic leaders and decision makers will exchange ideas and experiences at the event on the multiple challenges posed by the global economic decline, he said.

He said Afza was now competing to attract businessmen and investors by providing them with investment opportunities in the emirate and facilities to access international markets.

"The current world economic system has made it essential for small businesses to enter the global markets. It is also important that investors are provided with updates on the global economic trends.

"Our vision and aspirations are pinned on making Afza the hub of local, regional and global markets and transforming it into a global platform for businesses," he said.

Sheikh Mohammed said competitiveness is now at the top of economic initiatives and trends in the world. "Decision makers and businessmen need to get sufficient knowledge on global business standards that govern business. Such knowledge, and subsequent implementation, are required to lead economic institutions, business centres and free zones towards the world economy and enable them to respond to economic issues in light of the new global order," he said.

Global economic competitiveness has become as important for governments as for private enterprises, where both seek economic improvement and advancement, he added.

The conference will provide the free zone a wider opportunity for marketing and promotion, said Sheikh Mohammed, adding: "The conference will be an annual event and its first session will be held in April. It is a starting point for other economic activities that will be held in the emirate."
Keep up with the latest business news from the region with the Emirates Business 24|7 daily newsletter. To subscribe to the newsletter, please click here.
Follow Emirates 24|7 on Google News.