AMD looks to Abu Dhabi for rescue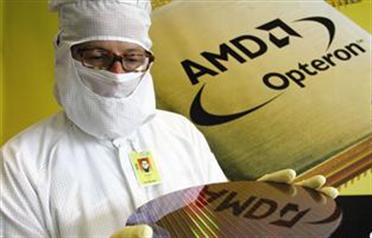 Abu Dhabi's Mubadala Development will increase its investment in the loss-making Advanced Micro Devices (AMD), the world's second-largest computer chip maker, to 19.3 per cent from the current 8.1 per cent, according to AMD.

The Santa Clara, California-based chip maker reported a net loss on Thursday of $1.4 billion (Dh5.13bn) for the fourth quarter of 2008, the ninth straight quarter that it has been in the red. However, there was a slight improvement from the net loss of $1.8bn for the corresponding quarter a year ago. Revenue was $1.16bn dollars in the fourth quarter, down 33 per cent from the fourth quarter of 2007, it said.

For the fiscal year ending December 27, AMD reported a net loss of $3.1bn on revenue of $5.81bn compared with a net loss of $3.4bn on revenue of $5.86bn in 2007.

"Although industry visibility is poor, our priorities remain clear and achievable," AMD President and Chief Executive Dirk Meyer said in a statement.

"We remain focused on reducing our break-even point through targeted restructuring actions while ensuring we execute our highly-competitive product and technology roadmaps.

"We expect our ongoing restructuring actions and asset smart strategy, combined with the strength of our innovative product offerings, will leave us well positioned for a global market recovery," he said.

Meyer said AMD expects a joint venture, The Foundry Company, with capital from two Abu Dhabi investment firms to go ahead in February.

The venture is with the Advanced Technology Investment Company (ATIC), a firm owned by the government of Abu Dhabi. ATIC will own a 55.6 per cent share of the venture.

Mubadala will increase its investment in AMD through the purchase of shares and warrants worth $314 million to bring its stake in the company to 19.3 per cent.

AMD, which has been losing money and falling behind market leader Intel Corporation, has said the move would result in one company that designs semiconductors and another that builds them.
Follow Emirates 24|7 on Google News.