Arab states reel under huge farm import bill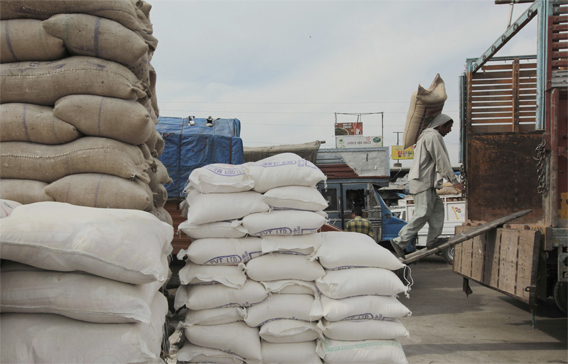 The six GCC members and other Arab countries have reeled under a massive cumulative farm import bill of more than $200 billion (Dh734bn) between 1990 and 2008 and the increase in food prices could block sufficient supplies to the poor and threaten stability in the region.
"High food prices directly affect the ability of Arab citizens to obtain enough foodstuffs given the limited income in most member states," said the Khartoum-based Arab Organisation for Agricultural Development (AOAD).
"Prices have steadily risen between 2002 and 2006 and are still recording sharp increases because of the rise in global food prices. Given the Arab region's heavy reliance on imports, this will have serious repercussions on food security in member states and will negatively affect regional stability."
Its figures showed that between 2000 and 2008, Arab states suffered from a cumulative food deficit of more than $130bn while the gap was around $100bn between 1990 and 2000. This means the cumulative farm gap, the difference between food imports and exports, has largely exceeded $200bn in nearly 18 years.
Worsening gap
Figures by the AOAD, a key Arab League organisation, showed the gap in most products has worsened over the past years, with that in grain and flour rising from around $8.5bn in 2004 to $9.1bn in 2005 and $9.58bn in 2006. Wheat gap widened from $4.4bn in 2004 to $4.6bn in 2006 while that in corn surged from around $1.5bn to $2.02bn. The gap in rice also grew from $1.24bn to $1.32bn and that of barley jumped from nearly $868 million to $1.9bn during the same period.
In 2006, the gap stood at $1.27bn in sugar, $2.4bn in cooking oil, $1.3bn in meat, $1.19bn in chicken, and $2.8bn in dairy products. Only fish recorded a surplus of around $914m in 2006.
At a meeting in Bahrain in 2008, GCC trade ministers proposed the creation of a giant fund to invest in farm in fertile Arab areas and other countries to slash a soaring import bill and ease their reliance on foreign markets for their food.
The proposals included a long-term GCC strategy that involves joint purchase of farm products and signing agreements with the group's key economic partners and food exporters to ensure food supplies at reasonable prices.
The UAE and other GCC states have already decided to invest in major agricultural projects in Sudan and countries outside the Middle East to reverse a rapid growth in their farm import bill because of a surge in global food prices, a sharp rise in their populations and relatively low local farm production.
Last year, the Abu Dhabi Fund for Development (ADFD) said it would invest in a large agricultural project in northern Sudan to produce fodder in its first stages before it is expanded to grow wheat, corn and potatoes.
Keep up with the latest business news from the region with the Emirates Business 24|7 daily newsletter. To subscribe to the newsletter, please click here.
Follow Emirates 24|7 on Google News.