Australia's eight-year growth run ends on recession fears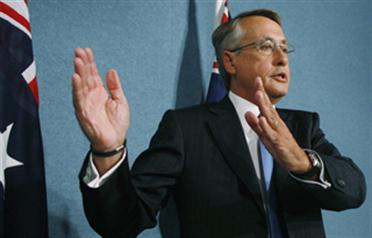 Australia stands on the brink of recession after shock figures showed the economy shrank for the first time in eight years, analysts said Wednesday.
The economy contracted 0.5 per cent in the December quarter, well below market expectations of 0.1 per cent growth, official data showed, ending a long run of expansion on the back of a China-driven resources boom. The figures came despite government attempts to kick start the economy with two stimulus packages worth more than $50 billion (US$32.5 billion), and sent currency and share markets plummeting.
While the economy grew 0.3 per cent for calendar 2008, economists said the slip into negative territory dashed hopes the nation once dubbed "the lucky country" could avoid the global recession. Treasurer Wayne Swan said the figures were a "sobering reflection" of an extremely difficult global environment that was likely to get worse before it improves. "Although the Australian economy has held up better than most other economies, the inevitable impact of the global recession is clearly evident in today's data," he said. Swan said the contraction was not as bad as those seen in other developed countries and would have been worse without the government's stimulus measures.
But markets reacted nervously, with the Australian dollar plunging 0.65 US cents to 63.15 US cents immediately after the announcement and the benchmark SP/ASX200 share index down 1.85 per cent at noon. "The market really wasn't expecting this," Bell Direct analyst Julia Lee told Sky News. "A fall of 0.5 percent is quite significant [...] we're seeing a severe reaction on the market. […]It's really starting to price in a recession in 2009 and probably not a recovery until maybe 2010."
Better-than-expected international trade and retail figures released Tuesday had fuelled market expectations the economy may repeat the 0.1 percent growth recorded in the September quarter.
But Kinetic Securities chief economist Clifford Bennett said even optimists were now expecting the economy to tip into recession, usually defined as two successive quarters of negative growth. "I was one of those people who thought we would avoid a technical recession but I do think the first quarter (of 2009) could be worse that the last quarter (of 2008)," he said. "There's a real chance now we will get more negative growth in the first quarter."
The realisation that the economy was going backwards meant the Reserve Bank of Australia (RBA) was likely to implement further interest rate cuts, he said. The central bank left rates on hold at 3.25 per cent Tuesday as it waited to see if the government stimulus packages and previous rate cuts totalling four percentage points since September would insulate Australia's economy.
RBA assistant governor of economics Malcolm Edey said shortly before Wednesday's figures were released that Australia was expected to suffer some significant short-term weakness. "The international deterioration has been so abrupt that it won't be possible to avoid some short-term weakness here," Edey told a business forum in Sydney. "Nonetheless, Australia came into this period with better momentum than most, and with more scope than most to take expansionary policy measures. That scope is being used."
WHAT DO YOU THINK? Should Australians be worried about the recent drop in the economy? Have your say by posting a comment below, or emailing us at online@business24-7.ae.
Follow Emirates 24|7 on Google News.