Big fat Indian weddings slim down in tough business times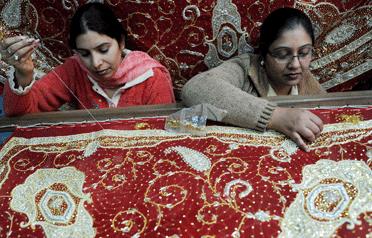 Preeti Punamiya is a young and excited bride-to-be, preparing to get married in a traditional Indian wedding which usually features days of lavish celebrations.
But the impact of the global economic downturn has caused her to rethink  the extravagance, following a trend that has seen many Indian families scale down their celebrations over the past 12 months.
"It's our families who wanted to make it a grand affair," said Punamiya, a biotechnology researcher in her early 20s who is marrying a US-based software engineer.
"I have wanted it simple, keeping costs under check," said Punamiya, who has cut back the days of festivities to three from the five customary in her family and also slashed the number of ceremonies to three from nine.
India's wedding seasons from mid-October to January and April to July bring with them street drummers and musicians, processions and open-air ceremonies where the statement often seems to be: the bigger and louder the better.
The industry is estimated to be worth 1.25 trillion rupees ($27 billion) a year. One leading wedding website Shaadi.com put the average cost of a high-end marriage at $44,000.
But wedding planners say that as the effect of the worldwide recession hits exports, imports and the service industry, India's wealthier urban upper classes are cutting back on costs.
"People are curbing expenses", said Tejal Kadakia, who founded Knot Forever, a Mumbai-based wedding management firm.
"For Indians, a wedding is a one-time event. People want a stylish, quality event, but they are trimming catering costs and even those on the guest list," she said.
A traditional Asian wedding is lengthy and elaborate, starting with a trip to the astrologer or family priest who chooses the auspicious day and time of the ceremony considering phases of the moon.
Rings are exchanged at the engagement, followed by the "mehndi" ceremony, where the bride's arms and legs are intricately painted with brown henna dye to ward off evil and strengthen love.
The next day sees an elaborate "sangeet" -- a musical, dance or even Bollywood-style extravaganza. The wedding itself usually comes 24 hours later, followed by cocktails and a lavish evening meal.
Moroccan- or Turkish-style weddings -- with billowing tents, vast pavilions, hookah smoking pipes and finely-upholstered, low-slung divans -- have proved popular with expat Indians who travel home to tie the knot.
But Tejal said: "These themes are vanishing. People prefer Rajasthani or Luckhnowi themes which are traditional and cheaper.
"Until three years back there was a certain childishness, an urge to show wealth. That has gone. Now it is not who beats whom. I would say we all seem to have been beaten by recession."
Candice Pereira, creative head of "Marry Me" wedding consultants, said: "Some people do prefer to combine the 'mehndi' and 'sangeet' events."
Tejal also said families are choosing to skip the music and dance altogether.
"Earlier there was a demand for only well-known singers or bands," she added. "The musical event is becoming optional or is personally choreographed. A lively family dance is considered enough."
Nevertheless, Bollywood song-and-dance events remain hugely popular with overseas Indians, particularly those from the United States and Canada.
Compared with many Western countries, wedding planners like Tejal and Pereira, whose firm charges upwards of one million rupees per event, are a new breed in India.
Wedding management firms have mushroomed in recent years across India's big cities, attracting clientele from medical doctors like Punamiya's family to industrialists and construction firm bosses.
But this year, Tejal said she has organised weddings for just six to eight clients, compared with 10 to 12 in 2008.
Many overseas-based Indians or people of Indian origin choose to get married in India due to cheaper costs and its cultural significance. Overseas, the cost of hiring venues, catering and ethnic Indian wedding wear quickly adds up.
India's salaried urban middle classes are also learning to streamline costs, amid concern for their jobs.
One recently-married Mumbai media consultant, who asked not to be identified, said he had been under pressure to have a traditional "multi-function" marriage -- but was conscious of the cost.
"At one point I considered a court (civil) marriage, but the process is complex," he said. "We finally did a two-day event, skipping the 'mehndi' and 'sangeet'."
The couple printed few cards, sending out most invitations on email or through mobile phone text messages.
"My honeymoon will have to wait. I had to be back at work," he added.
Keep up with the latest business news from the region with the Emirates Business 24|7 daily newsletter. To subscribe to the newsletter, please click here.
Follow Emirates 24|7 on Google News.