Blair meets Dubai's young global citizens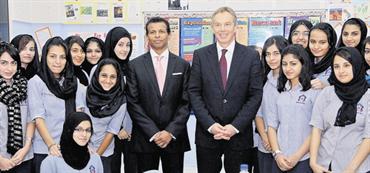 Tony Blair, former Prime Minister of the United Kingdom met with students of various city schools to promote inter-faith dialogue.

The visit was in line with the objectives of Tony Blair Faith Foundation, which he founded on leaving office in 2007 to promote respect, friendship and understanding between the major religious faiths; and to make the case for faith itself as a relevant, and as a force for good in the world.

At Gems Winchester School, he interacted with students from an Islamic education class, while at Gems World Academy, he talked to students about issues relating to religious tolerance.

Blair also met with Gems Education Founder and Chairman Sunny Varkey, who talked about the role the educational group plays in promoting respect and understanding of the world's major religions.

"As globalisation brings us all closer together we need to educate the children of the world about the importance of religious tolerance,"?Varkey said, describing Face to Faith, a Tony Blair Faith Foundation schools programme as a "wonderful educational initiative". Face to Faith engages secondary school students of different faiths across the world in learning directly with, from and about each other.

"In today's world, religious tolerance among diverse faith and cultural groups is essential. Young people will be proud of their national identities while becoming global citizens," Blair said.

"They need to learn skills that help them to learn how to respectfully discuss differences. This is why I established my Foundation, and specifically established the Face to Faith project where children of different faiths, cultures and geographies link up in open discussion with each other,'' he said.

"Today I have seen children from 87 nationalities in one Gems school, learning about the world alongside each other. Good learning creates understanding, overcomes prejudice and opens dialogue. I am very pleased to be talking to Gems about how we extend this," said Blair.

Varkey said Gems looked forward to working with the Foundation to see how we can incorporate the 'Face to Faith' programme into its schools, "because we see it as an extension of the core values we instil in all our pupils.

The visit ended with Varkey hosting a reception at his residence in former prime minister's honour.
Keep up with the latest business news from the region with the Emirates Business 24|7 daily newsletter. To subscribe to the newsletter, please click here.
Follow Emirates 24|7 on Google News.