Bonds boost confidence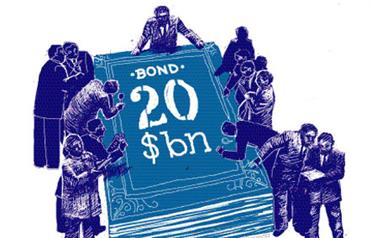 The announcement of the $20 billion (Dh73.5bn) bond programme by Dubai Government (in two tranches) has sent a wave of confidence surging through the business community and money markets.

The measure of just how high sentiment was yesterday was reflected in hard-core numbers, from DFM to credit default swap spreads to emerging market stocks as well.

Investors are said to be scrambling for bonds of various Dubai entities, even as the tone with which the captains of industry in Dubai reacted to the bonds, bordered on the celebratory.

The spread on Dubai's credit default swaps fell by more than 18 per cent yesterday from 898 basis points to 733 basis points, 25 per cent down from a peak of 976 basis points as on February 17.

The dramatic shift in sentiment sent the Dubai Financial Market index soaring by 7.91 per cent, or 121.10 points, to close at 1,652.98 yesterday.

After the DFM suffered panic selling pressures and profit-booking movements at the beginning of the week, all active stocks rallied aggressively by almost their upper limits with a high turnover of 929.7 million shares worth Dh1.196bn.

Analysts cited increasing investments by local, regional and international institutions during the rally, which fuelled active trading.

Even the once-gloomy Moody's said if there were no restrictions on how proceeds are used, the bonds could support its debt ratings of six Dubai firms, including Emaar, which it is considering for a change of grades.

Emerging market stocks too felt the bounce, with the MSCI Emerging Markets Index adding two per cent in London. Experts stated it was the Dubai bonds effect.
Follow Emirates 24|7 on Google News.