Britain expected to shrug off wintry economic chill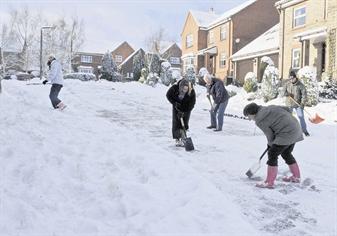 The British economy, forecast to emerge soon from recession, will likely shrug off the most brutal winter in decades as many Britons simply delay purchases and work from home to beat the big freeze.

The Confederation of British Industry (CBI), the nation's biggest employers' organisation, admitted that the cold weather was causing "massive disruption" for companies already suffering from weak demand in the downturn. The CBI also argued, however, that the economic impact will be mitigated by the growing adoption of high-speed internet services that allow many to shop or work from the comfort of their own homes.

Economist Howard Archer, who covers Britain and Europe for IHS Global Insight, played down the effects of heavy snowfall and freezing temperatures.

"These things tend not to have as much impact as often feared," said Archer.

"Obviously, the longer it persists the more it will hit retail spending and affect some business activity, but these things tend to be made up once conditions return to normal. For example, people tend to delay retail spending rather than cancel it."

With icy conditions making it almost impossible to travel, many people are choosing instead to sit on their sofas, flick on the heating and power up their home computers and laptops.

Consumers will also transfer their spending to other items, said Collin Ellis, economist at Daiwa Capital Markets Europe.

"I would not expect [the bad weather] to have a big impact on economic growth," Ellis said. "Obviously if people are struggling to get to work, that means it may take longer to fill orders.

"But I suspect the most likely outcome may be a further transfer between different types of consumption -- more meals at home versus eating out."

Britain's big freeze will slash about £1 billion (Dh5.88bn) from the nation's daily economic output, according to forecasts from the Centre for Economics and Business Research (CEBR) consultancy.

However, Keith Pilbeam, economics professor at London's City University, said the true impact on the economy was impossible to quantify. "Although the true cost of the current wintry weather on our economy cannot be calculated precisely, it will create a number of economic issues," he said.

"The full effects of the weather will depend on the severity and duration of the wintry conditions we are currently experiencing."

Profits and sales will be damaged, but some businesses will also benefit as more people stay at home.

"For businesses, the reduction in revenues coupled with paying staff who cannot make it to work – and so are not producing – will be very damaging to their profitability," Pilbeam said.

"However, the absence of staff from the workplace will benefit some companies, such as utilities, as people stay at home, switch on the television and turn up the heating. The wintry weather will mean an increased demand for commodities such as oil and gas, which will lead to higher prices that may prove long lasting."

British annual inflation jumped to 1.9 per cent in November because of rising fuel prices, recent official data showed.

CEBR head Douglas Williams warned that some businesses could go to the wall in the bad weather but agreed that the overall impact was limited.

"Don't exaggerate the economic impact of the freeze – much of the lost gross domestic product will be made up in the coming weeks – but some cash-strapped businesses might be pushed over the edge," Williams said.

"But all the past research shows that the impact of extreme weather on GDP is surprisingly small," he said, adding that many businesses were already operating below full capacity because of the recession.

Most analysts agree that the effects of weather will simply be reversed when the big freeze thaws out.

"The wintry spell is likely to have an adverse impact on industrial production as well as a generally disruptive effect on the service sector as three million workers are reckoned to have missed work in the worst affected areas," said VTB Capital economist Neil MacKinnon.

"Obviously, these are temporary effects – as better weather would simply see a sharp rebound in output and activity."
Keep up with the latest business news from the region with the Emirates Business 24|7 daily newsletter. To subscribe to the newsletter, please click here.
Follow Emirates 24|7 on Google News.