Britain will use range of options to help banks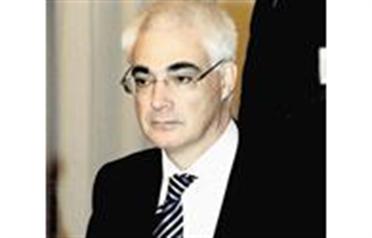 Britain will use a range of options to deal with the banking crisis, Finance Minister Alistair Darling has said, as heavy losses at a unit of Lloyds Banking Group led to a sharp drop in its share price.

Asked repeatedly whether nationalisation of Lloyds was a possibility, Darling avoided giving a direct answer.

"I said in January there is a range of options that we will be deploying, a range of levers that can be pulled to help all banks, because I have made it very, very clear that the integrity of the banking system is very, very important," he said in a BBC interview.

"What we are focusing on at the moment is making sure that we can identify these bad assets and then deal with that problem," he said, speaking from the G7 summit in Italy.

"What we have got to do now is for banks – whether or not we have got shareholdings in them – to identify the problems they have got ... and to get those bad assets out of the system, because until you do that then you will continue to find that banks will not lend," he said.

Britain announced a second, multi-billion pound bank rescue plan in January, allowing banks to insure themselves against losses on their riskiest assets and setting up a fund to buy high-quality securities to get cash flowing again.

Earlier this month, Darling said Britain had not closed the door on setting up a so-called "bad bank" to ring-fence toxic assets.

Vince Cable, finance spokesman for the opposition Liberal Democrats, said earlier that it looked increasingly likely that Lloyds would now go into majority public ownership, followed by full nationalisation.
Follow Emirates 24|7 on Google News.