Brown promises to create 100,000 jobs and spur bank lending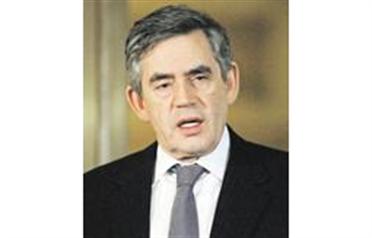 Prime Minister Gordon Brown promised steps to create up to 100,000 jobs and a renewed effort to spur bank lending as he seeks to cushion the British economy from its worst slump in more than a decade.

Brown said the government would spend the next few days in talks with banks to find ways for them to extend more credit to companies. He told the Observer newspaper that a government-funded public works programme would create jobs in high-tech and clean energy industries.

"We are going to act in the way previous governments didn't to make sure that through this downturn people are protected and where we can do so creating jobs and where can do so helping people sustain their mortgages," Brown told British Broadcasting Corporation.

Unemployment rose at the fastest pace since 1991 in November and the extra jobs announced by Brown would fall short of equalling the rise in unemployment in the three months through October. Brown said banks must extend loans to prevent small companies closing their doors and firing workers.

After almost 16 years of continuous growth, the UK economy contracted 0.5 per cent in the third quarter, and the Bank of England predicts it will shrink 1.3 per cent in 2009. Policy makers cut the key interest rate by a percentage point to 2 per cent last month after a 1.5 point reduction in November.

The jobless total based on International Labor Organization methods rose 137,000 the quarter through October to 1.86 million, the highest since December 1997, the year Brown's Labour Party took office. The rate climbed to six per cent, the most since June 1999, from 5.5 per cent in the previous period. Money to finance the programme, which includes school repairs, new rail links, unspecified hospital projects, and investments in wind and wave energy, will be drawn partly from reserves, the daily said, citing the Prime Minister.

Chancellor of the Exchequer Alistair Darling in November pledged £20 billion (Dh106bn) of tax cuts and spending to prevent the recession from turning into a deep and protracted slump.

Banks continue to ration loans for companies and households even after the government promised £50bn to bolster their capital. Brown said he will continue to seek ways for banks to increase lending.

"The small business issue and the jobs in small businesses, that is a bank funding problem and we have got to solve that problem over the next few weeks," Brown told the BBC. "That is what we are urgently talking with the banks at the moment."

The BBC, citing sources at the Treasury department, said finance minister Alistair Darling, is considering another bailout for the country's banking sector in the future.

No decisions have been made yet, the broadcaster said, but it reported the government was considering gathering up banks' so-called "toxic assets" into a new entity, or exchanging them for government bonds.
Follow Emirates 24|7 on Google News.