Business booming for Asia's debt collectors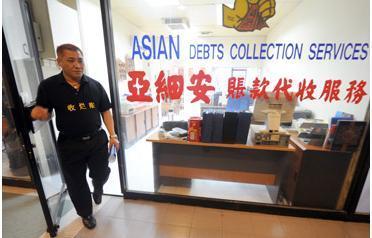 But Lim is no underworld kingpin – he is the operations manager of Asian Debts Collection Services, a Singapore government-registered firm whose employees use tact rather than violence to persuade debtors to pay up.
Lim and other debt collectors in Asia say the pickings are good in these bleak economic times.
His company pursues corporate and personal debts and gets a cut of the money it successfully recovers.
Debt collectors across the region said they have seen a spike in business compared with a year ago – and the global economic slowdown is a major factor boosting business.
Most of the debtors had companies which were in dire straits, Lim said.
"(They) lost what they invest, and they cannot pay," he said, gesturing to a long row of files which spanned two tabletops and contained debtors' details.
Lim said his customer base has increased 30-40 per cent from 2007, while the average monthly amount he needs to collect has jumped significantly from the previous range of S$200,000-300,000 ($133,000-200,000; Dh489,440-736,000).
"Now, we have to collect S$500,000," he said.
Another local debt collection agency, Kimberly Masters and Partners, said it had seen a 25 per cent rise in the size of debts needing collection.
"This has been an increasing trend ever since late 2008 when the economic crisis actually struck," said Mark Tilakadaf, operations manager of the company.
The situation is similar in Australia, where the nation's largest debt collection agency Dun and Bradstreet said it had experienced a significant rise in the number of debts referred to it, particularly in the last eight months.
"Not only have we seen an increase in the number (of referrals), we have also seen (clients) referring their debts to us a lot earlier than they used to," said Christine Christian, the agency's chief executive officer.
In Japan, the global financial crisis has transformed the type of people struggling to repay loans. While loan sharks once pursued lower-income consumers, nowadays debt collectors are looking at business owners who borrowed from banks.
"Compared with a year ago, I have received only about half the number of people who struggle with repaying high-interest consumer loans," said Hirofumi Yoshikawa, a finance management consultant in Tokyo.
"Instead, I have seen 50 per cent more people, mostly business owners or employees of companies once considered to be solidly financed, come to me because they cannot repay loans taken out of banks," Yoshikawa said.
Trying to collect the debts can be a challenge.
Christian, in Australia, said collection of the owed monies had "definitely" become more difficult.
Lim said he faces debtors who "play hide-and-seek" by constantly changing their phone numbers and addresses, while others call the police and accuse him of assault and harassment. Some take him to court, he said.
"In debt collection, we are being accused of a lot of things, people use all ways and means to evade debts," the Singaporean says.
He is unruffled, and even encourages the debtors to take legal action against him, saying: "When the judge finds out we have not done anything wrong, he will ask them to pay us the debts too, which is good for us."
As for the stubborn cases who "are obviously filthy rich" yet who refuse to pay even after repeated visits to their offices, Lim resorts to unorthodox measures.
These include wearing his "uniform," a T-shirt emblazoned with the words "BAD debts... collection," and stationing his staff outside their offices in full view of the public.
For the Lunar New Year, which this year passed on January 26, he has a special trick.
"If they don't pay up, I will visit their house on New Year's Day, and wish them a happy new year in front of their family."
Lim stresses that these measures are only for recalcitrants.
For those genuinely facing financial difficulty, the company is flexible with debt payment, he says.
Credit Counselling Singapore, a non-profit society, saw a 39 per cent increase in people seeking counseling in the second half of 2008 when the economic crisis intensified, compared with the first half, said the organisation's assistant director, Tan Huey Min.
"I suppose the economic crisis is one potential reason. Things have not been going well (for the debtors)," said Tan, whose charity was formed to advise debtors and help them develop a repayment plan.
But Lim says creditors are victims too, because many are cheated by debtors who make off with their profits and who bully them "because of our clients' kindness".
Follow Emirates 24|7 on Google News.
With his close-cropped salt-and-pepper hair and stern, weathered face, Simon Lim looks like a Triad gang leader straight out of a Hong Kong movie.