Cadbury melts to £11.9bn Kraft offer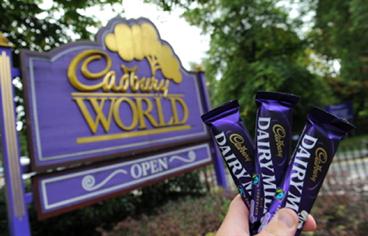 Kraft Foods agreed a recommended deal to buy Cadbury for around £11.9 billion (Dh72bn), creating the world's top confectioner after frantic last-minute talks broke an impasse over price.

Kraft's CEO Irene Rosenfeld had to inject more cash into her bid and drop the number of new Kraft shares in the offer to win over Cadbury Chairman Roger Carr and mollify her top shareholder, billionaire investor Warren Buffett.

Kraft's cash-and-share deal values each Cadbury share at 840 pence, with shareholders also set to get a 10p special dividend, bringing it to a total of 850p, which prompted a unanimous recommendation from the Cadbury board in favour of the deal.

Cadbury shares hit a record high of 838 pence in early trade and were up 3.7 per cent 837-1/2p by 10.03 GMT.

"Kraft has got a very good deal here. 850p is predicated on the current Kraft share price, and I would expect Kraft's shares to rise today on the back on substantially less Kraft shares being issued as part of the deal," said Panmure Gordon analyst Graham Jones.

Kraft said the deal would be accretive to earnings in 2011 by around five cents on a cash basis and give a mid-teens percentage return on investment, well in excess of Kraft's cost of capital.

The new bid consists of 500p of cash and 0.1874 new Kraft shares, compared to Kraft's original offer of 300p cash and 0.2589 new Kraft shares, which valued the shares in September when the deal was first proposed at 745p.

Buffett, who owns a near-10 per cent stake in Kraft had warned Rosenfeld not to overpay and issue too many new Kraft shares.

Kraft said yesterday it was issuing 265 million new Kraft shares compared with its original plan to issue 370 million.

The deal would create the world's largest confectionery group ahead of privately owned Mars-Wrigley and bring under one roof Cadbury's Dairy Milk chocolate and Trident gum and Kraft's Milka, Toblerone and Terry's chocolate brands. Cadbury investor Standard Life Investments said it supported the board's decision to recommend the Kraft offer.

"We are supportive of the management's decision although the achieved price is slightly light of the stated target," said David Cumming, head of UK equities at Standard Life.

Cadbury unions have opposed the move fearing big job cuts and UK politicians have also weighed in, with general elections looming.

UK Prime Minister Gordon Brown told a news conference after the deal was announced that he wanted to protect investment and jobs in Cadbury. "The one thing I want to say is this: we are determined that the levels of investment that take place in Cadbury's in the United Kingdom are maintained," he said.

Kraft's CEO Rosenfeld faced pressure from her own shareholders to get the price right. Billionaire investor William Ackman last week joined Warren Buffett, Kraft's biggest shareholder, in saying Kraft risked diminishing the merits of a Cadbury takeover by issuing too much stock to pay for it. Kraft has informed Buffett of the revised deal with Cadbury, one of the people said. Buffett did not immediately return a request for comment sent to his assistant, Debbie Bosanek.

Buffett's Berkshire Hathaway said in a January 5 statement it may support a Cadbury takeover if it concludes that the final offer "does not destroy value for Kraft shareholders".

Ackman's Pershing Square Capital Management bought a $950 million stake in Kraft, or two per cent of the company, Ackman said in a January 15 interview. A purchase of Cadbury makes "tremendous sense", he said.

Kraft advanced 46 cents to $29.58 in New York Stock Exchange composite trading on January 15. Based on that price, the original bid of 300 pence in cash and 0.2589 Kraft share was more than 60 per cent stock.

Kraft said earlier this month that it would sell pizza brands including DiGiorno and Tombstone to Nestle and use proceeds from the $3.7bn deal to boost the cash component of its bid.
Keep up with the latest business news from the region with the Emirates Business 24|7 daily newsletter. To subscribe to the newsletter, please click here.
Follow Emirates 24|7 on Google News.