Change in 'Buy American' stance cheers Europe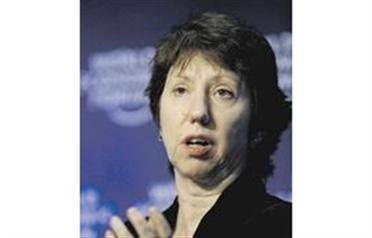 The European Union's trade chief said yesterday she was encouraged by US President Barack Obama's decision to alter "Buy American" language in an economic stimulus bill.

"I'm encouraged by the words of President Obama, he realises – like we do in Europe – that we need to trade our way out of the current economic difficulties. Trade is part of the solution as it acts as a stimulus," EU Trade Commissioner Catherine Ashton said.

The governments of both the European Union and Canada, worried about lost exports to the United States, sent letters to Congress on Monday urging the provision be dropped.

Under pressure from European steel makers, Ashton – who oversees trade policy for the 27-nation bloc – had warned of possible action at the World Trade Organisation, the global trade watchdog.

But Obama said in a television interview it would be a mistake when worldwide trade is declining for the US "to start sending a message that somehow we're just looking after ourselves and not concerned with world trade".

However, a commission spokesman said Obama's conciliatory stance would not affect Brussels' decision to offer export subsidies for EU dairy products, which has also angered other trading nations.

"There is no deal. Barack Obama's decision to look at altering the Buy American clause in no way affects the EU's dairy decision," a commission spokesman said.

WTO chief Pascal Lamy said Brussels' move to reintroduce the subsidies did not "send the right political signal" as nations strive to avoid protectionist measures to fend off the worst economic slump since World War Two.

The Cairns Group, a coalition of 19 countries including Brazil, New Zealand, South Africa, Canada and Indonesia, have also asked the EU to reverse its decision.
Follow Emirates 24|7 on Google News.