China's exports and imports surpass expectations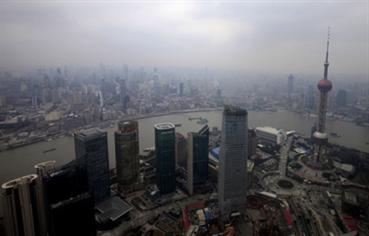 Growth in China's exports and imports last month blew past expectations, providing fresh evidence of the vigour of the economy and strengthening the case for Beijing to let the yuan start climbing again.

Exports leapt 17.7 per cent from a year earlier, dwarfing the 4.0 per cent rise forecast by economists and breaking a 13-month streak of year-on-year declines; imports surged 55.9 per cent, much more than the 31.0 per cent increase markets had expected.

"The strong acceleration in imports may heighten the chances of overheating and put more pressure for the government to tighten policy," said Wang Hu, an economist at Guotai Junan Securities in Beijing.

Based on the trade data, he estimated industrial output in December grew by more than 25 per cent from a year earlier and that GDP growth in the fourth quarter exceeded 11 per cent.

Despite the leap in exports, the even bigger jump in imports meant China's trade surplus slipped to $18.4 billion (Dh67.52bn) in December from $19.1bn in November and $39.0bn in December 2008. Economists had expected it to tick up to $19.6bn.

China was not the only Asian exporter to enjoy a dazzling December. South Korea and Taiwan reported export growth of 46.9 per cent and 33.7 per cent, respectively.

But China is far bigger, overtaking Germany as the world's biggest exporter of goods in 2009. Its booming investment and consumption are helping to rebalance the world economy even though Beijing has refused to let the yuan rise against the dollar since the global financial crisis began in mid-2008, said Rob Subbaraman, chief Asia economist at Nomura in Hong Kong.

China's imports of crude oil also hit a monthly record, while iron ore shipments were the second highest ever and copper imports beat expectations. Booming Chinese demand will be a boon for commodity exporters such as Australia, said Liu Nenghua, economist with Bank of Communications in Shanghai.

"It shows that China will continue to play an important role in driving world economic growth," he said.

Liu said policy would not change in response to one month's figures, but the strong data would further reassure Chinese officials that global demand was not as weak as they had feared.

"The government needs some time to see what happens. The really critical period is the first quarter of 2010: if the situation continues to be rosy, then the government may have to change a slew of policies, including its exchange rate policy." China flagged the possibility of tighter policy settings last week when the central bank nudged up a key money market rate for the first time since August. And yesterday the cabinet voiced fresh concern over the bubbly property market and vowed not to let speculative inflows heat it up.

Other economists agreed that the yuan could start to rise around the end of March if exports remain strong.

But any appreciation would be moderate, in the order of three per cent for the whole year, as China strove to protect export jobs, said Lin Songli at Guosen Securities in Beijing.

"China is in need of exports to create jobs and to promote economic growth, there's no doubt about that," Lin said.

Brian Jackson, an economist with Royal Bank of Canada, said strong exports would increase pressure on Beijing to allow some appreciation, "while also making it easier to justify such a move to domestic audiences", he said in a note to clients.

Huang Guohua, a statistics official with the General Administration of Customs, called the rebound in December exports "an important turning point". Huang cited strength in export orders evident in last month's survey of purchasing managers as evidence that Chinese exports are set to grow further.

"It is safe to say now that Chinese exporters have come right through the period of weakness," Huang told state television.


Beijing to Strengthen Guidance on Home Loans

China has said it will strengthen its guidance of banks' home loans and seek to counter speculative capital arriving from abroad as risks mount that price bubbles are emerging in the nation's property market.

Government agencies will increase monitoring of loan flows to prevent funds from illegally entering the property market and foreign "hot money" from affecting China's financial system, the State Council said yesterday.

Premier Wen Jiabao pledged in December to tackle "excessive" real-estate gains in some areas of the world's third-biggest economy. Prices across 70 cities rose at the fastest pace in 16 months in November, fueling concern that record lending and inflows of overseas capital are creating asset bubbles.

The government will "guide reasonable housing consumption and curb speculative investments", and it "will boost land supply" and accelerate construction of lower-priced, smaller homes, said the statement.

Families that have borrowed money for their first home and wish to purchase a second property should have to make an initial payment of at least 40 per cent of the building's value, the statement said.
Keep up with the latest business news from the region with the Emirates Business 24|7 daily newsletter. To subscribe to the newsletter, please click here.
Follow Emirates 24|7 on Google News.