China seeks progress against global woes at G20's April summit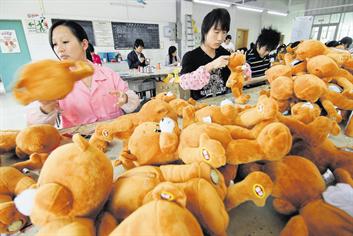 China wants the G20 summit to make progress against global financial turmoil, Foreign Minister Yang Jiechi said, stressing the economic imperatives of China's foreign policy and the desire for solid United States ties.

The April 2 summit of big developed and developing countries in London aims to put the world economy on a path to recovery.

Yang said yesterday that Beijing wanted a major say there and in longer-term talks about reworking the global financial order.

The overarching goal of Chinese foreign policy was to "spare no effort to ensure the stable and relatively fast growth of the domestic economy", he told a news conference held to coincide with the country's annual parliament session.

"The pressing task now is that all countries must work together to make the upcoming financial summit in London a success," Yang said.

"We believe the London summit should play a role in boosting confidence, streng-thening co-ordination on macroeconomic policies, stabilising financial markets, and undertaking necessary reforms in the global financial system and regulatory regime," he added.

Yang's 90-minute news conference highlighted the extent to which the world's third-biggest economy now views its diplomacy through an economic lens.

He brushed aside a question about whether his government blamed economic laxity in Washington for the world's woes. He said the two countries had to work together and added that Beijing was off to a good start with President Barack Obama's administration.

"In the current international environment, China and the US share broad common interests. We hope that each side can accommodate the other's core interests and enhance exchanges and cooperation," he said.

President Obama and Chinese President Hu Jintao will meet for the first time in London. How the two sides handle their sometimes fractious economic ties will be crucial to the course of the global economy. The US buys more Chinese exports than any other nation and China holds more US government bonds than any other foreign country.

With Washington expected to issue new debt to help pay for Obama's stimulus package, China's holdings could grow. But Obama has also pressed Beijing to continue appreciating the yuan, which he sees as undervalued, making Chinese exports unfairly cheap.

The London summit will follow last November's G20 crisis meeting in Washington and aims to agree on coordinated actions to revive the global economy, reform of financial systems and principles for reforming international financial institutions.

In a position paper prepared for the April 2 meeting, China has called for more power for developing countries in the International Monetary Fund and World Bank.

Yang did not give details about his government demands and expectations from the gathering. But he broadly stressed that the global financial crisis should create more of a say for his and other poorer countries.

Prime Minister Wen Jiabao on Thursday reaffirmed China's goal of eight per cent growth for 2009 after years of double-digit expansion figures.

Echoing comments from many senior Chinese officials, Yang said his country's "biggest contribution to dealing with the financial crisis is continuing to maintain stable and relatively fast growth".
Follow Emirates 24|7 on Google News.