China should mull trade retaliation: government economist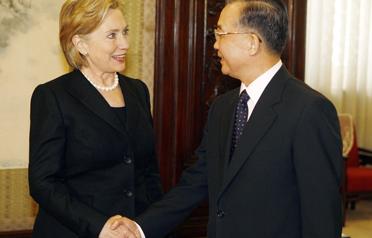 China should make contingency plans to retaliate against the United States for its policies aimed at protecting domestic producers, a researcher at a government think-tank said on Tuesday.
Long Guoqiang, an economist with the Development Research Centre, said the international community should tell the United States very clearly that it opposes protectionism at April's summit in London of the Group of 20 rich and emerging economies.
"What's more, countries including China should make another preparation: they should draw up a retaliation list of trade products," Long told a forum of academics convened to discuss how to contain trade protectionism.
"Personally, I think this list need not be limited to goods," he said. Long, whose research outfit reports to the State Council, China's cabinet, did not say what else should be on the list.
China has been irked by "Buy American" provisions in President Barack Obama's recently enacted economic stimulus package, fearing they will discriminate against imports of steel and other goods.
But another speaker, Lin Guijun, a professor at the University of International Business and Economics, said China would be shooting itself in the foot if it retaliated.
Erecting trade barriers was a recipe for reducing a country's standard of living, Lin said.
Instead, China should rope in other countries to present evidence-based arguments for free trade and to highlight the costs of protectionist policies.
Long said a recent slump in imports meant China should brace for deterioration in its exports, especially because the yuan's effective exchange rate, measured against the currencies of its trading partners, had been on a rising trend.
Total Chinese imports fell 43.1 per cent in January from a year earlier, while exports were down 17.5 per cent.
"The impact of the sharp drop in processing trade imports will soon pass through to exports in the next 3-6 months. This is what we fear most," Long said.
Follow Emirates 24|7 on Google News.