Chinese companies turn focus on UAE market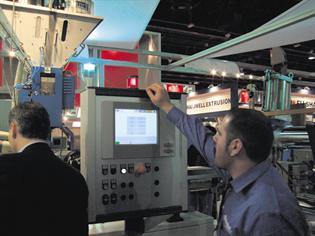 Feeling the heat of the ongoing global economic crisis, Chinese companies are making a beeline to the Middle East, particularly the UAE market.

With an objective of finding new customers, regardless of their operational size, a large number of companies from China are participating in the ArabPlast and Tekno/Tube Arabia 2009 trade exhibitions. Most of the exhibitors are upbeat on the Middle East market as the Chinese domestic market conditions turn bearish.

"We don't see any major impact on our market, but the slowdown is hitting our domestic industry. We will continue to explore business opportunities here in the Middle East market. Competition is there in every sector, but we are not afraid of it as we focus on enhancing quality standards continuously. We have our own market with our niche products. Chinese industry is looking towards the Middle East market to sustain in the business and expand to new shores," Sunjia Tong, GM, Tianjin Zhongshun Petroleum Steel Pipe Company told Emirates Business.

Mico Lv, Manager (exports), Zhejiang Chenlong Sawing Machine Group, said: "We are trying to improve our quality standards and reduce production costs. Material prices are going down and we consider this as an opportunity to cut down costs. Our main focus is on quality aspect only. We are planning to export to the Middle East market.

"We are here to study the local market and then we will start exporting to the region. There are few players in the saw machine segment and with our high quality standards, we are confident of exploring new business here. The Chinese government is taking all possible measures to increase demand in the domestic market and easing tax burden on the industry."

Most of the Chinese exhibitors at the exhibition consider Dubai as an alternative market for their products and safe for their investments. In order to implement business plan-B, Chinese companies are examining the local market dynamics.

Most exhibitors who talked to Emirates Business expressed their confidence in the Gulf countries as the region turns out to be a safe bet for their investments because of greater liquidity.

Satish Khanna, General Manager Al Fajer Information & Services, co-organiser of the exhibitions, said: "Chinese companies' participation has increased from 24 for Tekno/Tube 2007 to 87 and from 80 for ArabPlast in 2007 to 200," while attributing the dramatic increase to Dubai's consolidation as the hub for the entire Asian market.

"Tubes, plastics, industrial machinery and metals manufactures from China are increasingly saying that Middle East is on their list and they have to serve their customers at a closer proximity as these customers are more sustainable and have more money," said Carol Zhao, Manager (export), Deyili, a Chinese plastic product manufacturer.

Chinese exhibitors have expressed satisfaction over the quality of information available and potential of visitors. One of the exhibitors said: "Arabplast offers us access to a wide spectrum of technological innovations in the plastics, packaging, rubber, chemical and polymer and petrochemical segments, while TeknoTube displays latest solutions in tubes and pipes, industrial machinery and machine tools, metal-working machinery and welding machinery."

Zhao said: "We are here to find new customers because we consider Dubai the ideal gateway to the Middle East and North Africa region. Chinese businesses that are fully dependant on exports are suffering now. Our strategy is to strike a balance between our domestic market and external markets. We are here to find a safer market if the crisis at home deepens."

Pan Guanglin, GM, Guanda Plastics Machinery, said: "This is our first participation in Arabplast. Our major markets are South America and Asia." However, Guanglin denied that China was affected by the crisis, but admitted they were facing a tough year and have plans to open offices in the region for further expansion."

Ming Tong, Vice-President of Liaoning Large-Scale Steel Pipe, said: "This is our first participation. We were operating in the region through distributors. Our major clients are oil and gas companies. China is deeply affected by the crisis and Dubai is definitely a great market to invest in as a pre-cautionary measure."

Vivy Yang, Manager, Guangzhou Junjia Steel Tube Manufacturer Co participating in TeknoTube, said: "The tube industry in China in affected by the crisis like any other sector. Our sales strategy involves in a mix of 50:50 for domestic and export markets. The Middle East constitutes just five per cent of our external markets and we are working on increasing our market share in the region. The situation will be tougher this year and we are getting ready to explore more lucrative markets with higher liquidity. But China will remain our key market for years to come."

Elaborating on expansion plans taken up by most of the global companies at ArabPlast exhibition, Khanna said: "A number of global players have announced their expansion strategies, including German Arburg that has opened its regional headquarters in Dubai. Also, Chinese companies are making entry into the Middle East market despite the credit crunch because they consider this market less risky in the long run, when compared to other markets."
Follow Emirates 24|7 on Google News.