Congress passes $787bn stimulus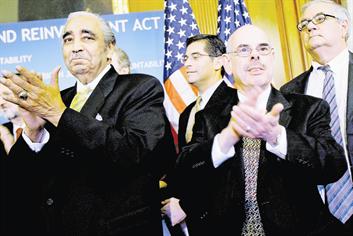 The United States Congress has approved a $787 billion (Dh2.89 trillion) package of tax cuts and fresh spending to salvage the broken American economy, handing President Barack Obama a major political victory.

The US package of government spending and tax cuts aimed at reviving the world's largest economy cleared both chambers of Congress, overcoming the resistance of Republicans who sought more tax breaks.

President Obama is expected to sign the bill into law soon.

But lawmakers' final approval came almost entirely without backing from Republicans, denying Obama the bipartisan support he had hoped for.

The Senate voted 60-38 to pass the measure hours after it cleared the House of Representatives by a lopsided 246-183 margin, setting the stage for Obama to sign it into law before his self-imposed February 16 deadline.

Senate Democratic Majority Leader Harry Reid assured the stimulus plan would strengthen the US economy by creating millions of jobs. There was no immediate response from the White House, but Obama had made his delight known after the vote, giving reporters a thumbs-up sign as he left the White House.

The new president had set a February 16 target date for the package – a blend of tax cuts, aid to hard-hit Americans, and investment in infrastructure, education and energy that he says will save or create 3.5 million jobs. But the victory was bittersweet, as lawmakers were voting on a compromise stimulus plan that was smaller than Obama had requested, and most Republicans rebuffed his appeals to join Democrats in approving the bill.

"This isn't Monopoly money. It's real. It adds up, and it has to be paid back, by our children and by their children," said Republican Senate Minority Leader Mitch McConnell.

Obama told business leaders in a speech at the White House early in the day that finishing the legislation was critical, but warned that much remained to be done to bolster the US economy.

The bill approval failed to dispel pessimism on Wall Street, where persistent worries about the health of the banking sector last week drove stock prices down by about five per cent.

Investors remain jittery about US Treasury Secretary Timothy Geithner's $1 trillion bank rescue plan and, lacking details, they wonder how it would relieve banks of money-losing assets at the root of the financial crisis that spread round the world.

There is likely more pain to come. The US economy will shrink a whopping 5.2 per cent in the first quarter, its worst performance since 1982, according to a survey published by the Philadelphia Federal Reserve.

EUROZONE WOES
Meanwhile, the eurozone economy saw its deepest contraction on record in the fourth quarter of 2008, shrinking 1.5 per cent against the previous quarter.

German gross domestic product fell 2.1 per cent quarter-on-quarter, the worst decline since the country's unification in 1990.

"The economy is now in its worst post-war recession. There can be no talk of economic recovery for now," said Alexander Krueger of Bankhaus Lampe.

French GDP fell 1.2 per cent in the fourth quarter of 2008. Economy Minister Christine Lagarde predicted a contraction of more than one per cent in 2009.

Italy's economy shrank by 1.8 per cent in the last three months 2008, the steepest drop since 1980.
Follow Emirates 24|7 on Google News.