Country's non-oil exports surge 42%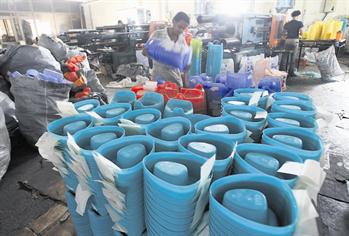 The UAE's non-oil exports are growing at an unprecedented rate, confirming the country's success in achieving diversification, says the Ministry of Foreign Trade.

"The rate of non-oil exports from the UAE has surged to 42 per cent of the total," Juma Mohamad Al Kait, Director of the ministry's Trade Negotiations and World Trade Organisation Affairs Department, told Emirates Business.

"The increase in the percentage of non-oil exports is a major and unprecedented success for the country. The non-oil industrial sector is seeing rapid and remarkable growth in the UAE, especially in the petrochemical, plastic and clothes areas."

Al Kait said the last annual report issued by the WTO for 2007, a principal source of foreign trade statistics for countries around the world, underlined the success of the UAE. The country was the leading GCC state when it came to diversifying non-oil exports.

"The UAE comes first when compared to the other GCC states in terms of contribution of non-oil exports to the export structure and decline of the rate of oil contribution."

The UAE was the fourth biggest oil exporter in the world with total exports valued at $100.2 billion (Dh368.2bn), he said.

Kuwait and Oman had the highest percentage in terms of contribution of petroleum exports to the export structure, with 95.8 per cent and 95 per cent consecutively.

"The UAE surpasses other GCC states in terms of re-exports. In 2007, the value of re-exports passing through the UAE totalled $35bn, which is three times larger than the value of the rest of the GCC's total re-exports."
Follow Emirates 24|7 on Google News.