Credit Suisse to cut global bonuses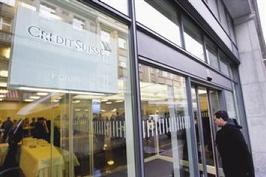 Credit Suisse is spreading the pain of a UK tax on bonuses across bankers globally and Goldman Sachs has delayed announcing payouts to staff as a row over remuneration heated up yesterday.

Credit Suisse said it will cut its global bonus pool by five per cent to pay for a controversial 50 per cent tax on UK investment bankers' bonuses. It is the first bank to specify the impact of the tax, and said bonuses for its top 400 managers in Britain will be cut by a further 30 per cent.

Deutsche Bank said yesterday it will raise fixed salaries for staff and cut variable pay, following Barclays and other rivals in lifting base pay, potentially to reduce the burden of the tax.

The UK tax, announced suddenly less than six weeks ago, has forced banks to scramble to rework payout plans. Most were expected to swallow the cost of the tax themselves, rather than pass it on to staff, but some bankers now appear set to take some of the hit.

Banks are heading into one of the most controversial bonus seasons of recent years, facing intense scrutiny and a fast-changing landscape as politicians vow to stop bankers earning millions just months after being rescued by state bailouts.

In addition to Britain's move, France, the United States and other countries are attempting to rein in pay.

The United States last week proposed Wall Street pay $90 billion (Dh330bn) over 10 years to reimburse taxpayers for the financial bailout, as President Barack Obama slammed bankers for their "obscene bonuses".

Bankers at Goldman Sachs, the focus of much of the public outrage over excessive bonuses, will hear about their payouts next week, a person familiar with the matter said.

The investment bank had been expected to give staff the outline of their payouts on Monday, in line with previous years when they were told a couple of days before full-year results, which are due tomorrow.

Goldman has sparked outrage among critics for preparing to pay more than $20bn in compensation this year, only months after benefiting from a $10bn US taxpayer bailout.

Some insiders have blamed the Wall Street powerhouse for not taking a more restrained approach and for stoking public anger. Chief Executive Lloyd Blankfein ruffled feathers last year when he said his and other banks were doing "God's work".
Keep up with the latest business news from the region with the Emirates Business 24|7 daily newsletter. To subscribe to the newsletter, please click here.
Follow Emirates 24|7 on Google News.