Crisis-hit EU less keen on Balkans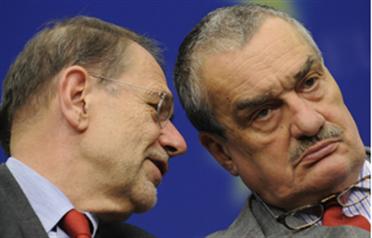 The global economic crisis means the European Union is becoming less enthusiastic about allowing Balkan countries to join, the bloc's presidency said on Tuesday.
The EU has held out the prospect of membership to countries across the Balkans, but a new mood of caution is detectable as recession bites in Europe. "In time of economic crisis people get more careful," said Czech Foreign Minister Karel Schwarzenberg, whose country holds the EU's rotating presidency. He was referring to plans to expand the 27-nation EU to include Balkan states such as Montenegro and Serbia.
EU foreign ministers failed to agree on Monday to give the green light for the bloc's executive Commission to start assessing Montenegro's membership application. Starting to assess an application -- which Montenegro presented in December last year -- is usually regarded as a technical step and is no guarantee that a country will start the EU accession process or eventually join.
But a few EU countries have been reluctant to give quick approval this time, diplomats said, citing Germany and the Netherlands as having reservations. "There were times in the history of the EU when each application was received with great expectation, but for the moment there is some sceptical mood within the EU," Schwarzenberg said at a news conference after meeting Albanian Foreign Minister Lulzim Basha. "Montenegro has a bit of bad luck to present (its application) at this time."
Schwarzenberg said the Czech EU Presidency was a staunch defender of opening up the EU to western Balkan countries and would continue to press the issue with its EU partners.
France, however, raised fears that it was adopting a more protectionist stance on Tuesday when President Nicolas Sarkozy said the EU should defend its industries in the same way the United States does. EU nations should take "strong decisions" in defence of European interests, he said during a visit to Rome.
Albania's Basha reiterated that his country was preparing for EU membership but declined to say when it would fill in an application.
Montenegro's EU application is expected to encourage Balkan neighbours such as Albania and Serbia to file their own applications in the coming months. Croatia started accession talks in 2005, but they are now hampered by a border row with Slovenia.
Macedonia -- embroiled in a row over its name with Greece -- has had official EU candidate status since 2005. Serbia needs to step up its cooperation with the UN war crimes tribunal for former Yugoslavia to get EU candidate status.
Follow Emirates 24|7 on Google News.