Crisis-hit Indonesian malls have plenty of visitors, few sales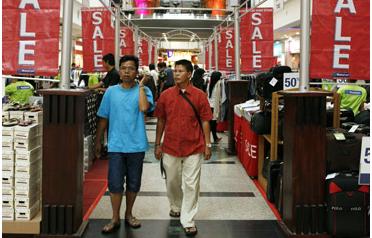 Strolling past slick glass shopfronts in the exclusive Plaza Indonesia mall and wearing chic European brands, 22-year-old Ira and a group of female friends may look like frequent shoppers at the mall's boutiques, but they're not interested in buying.
"We like coming to the mall, it's a great place to meet friends and look at shops and even have a meal or coffee, but very rarely do me or my friends actually buy anything from the shops" Ira said.
It is a trend repeated throughout Indonesia, where mall retail sales are dropping – but not the number of window-shoppers – as the global financial crisis rolls in.
Retail sales dropped 23.9 per cent in 2008, central Bank Indonesia said in a January report, with clothing retailers experiencing a sharp 8.8 per cent decline in November alone.
This has not halted the explosion of new malls in Jakarta. One has a seven-storey slide and private conference rooms, another a Moulin Rouge-style indoor windmill.
But Indonesians are now less likely to spend serious money in these temples to consumerism, according to Bank Danamon chief economist Anton Gunawan.
In a country where 70 million people live on less than $2 (Dh7.40) a day, malls have long been beyond the reach of many Indonesians.
Louis Vuitton handbags start at 22.5 million rupiah ($1,930; Dh7,102) and basic Calvin Klein shirts are a snip at 1.5 million rupiah, which is equivalent to 50 days' work for the minimum wage.
The problem now, Gunawan said, is that Indonesia's rich are starting to feel the pinch too. The government recently revised its economic growth forecast for the year down to 4.7 per cent from an earlier 6.2 per cent.
"There will be a decline in sales, the crisis will impact the rich as well," Gunawan said.
And with around 100 malls up and running in Jakarta and another 10 on the way, Jakarta is just plain oversupplied, he said.
Mall occupancy rates have dropped by 3 per cent over the last five years to 77.4 per cent, real estate analysts Cushman and Wakefield said in a recent report.
"Vistor traffic to the retail centres may increase, but not sales volume," the report said.
"F&B (food and beverages) and entertainment are the most visited stores, whilst shoppers are predicted to limit spending on 'tertiary' goods, such as jewelry, electronics etc," it said.
In a city with few public parks or pedestrians, new malls are competing to attract shoppers with lavish food halls and unique attractions.
Among those vying for customers will be the $1.2-billion St. Moritz mall and apartment complex currently under construction in Jakarta, which will feature a marine amusement park.
It will compete with more established malls such as Pondok Indah in the south of the city, which boasts several water slides in its amusement park.
Mall managers are also hoping for a boost from increasing numbers of stressed-out members of the middle class opting to eat at air-conditioned food halls, rather than cook at home or risk unhygienic street stalls.
"Malls are no longer just shopping centres, they are 'shop-a-tainment'. It has become part of people's lifestyle," said Andreas Kartawinata, chairman of the Indonesian Shopping Centre Association.
"Guests are still coming and we understand sales are going to go down but people will come to the malls to eat and still make small purchases."
Despite the gloomy outlook, managers say they are optimistic about Indonesia's mall growth spurt continuing.
"Sixty-eight per cent of Americans like going to malls and they have over 40,000 malls; 97 per cent of Indonesians like going to the mall and we have only 100 in Jakarta, so there is a tremendous opportunity," Kartawinata said.
"They have become a home away from home."
But while managers are hopeful the good times will go on, bored shop assistants at the brand-new FX Mall in Jakarta sit slumped in chairs, sending text messages from their mobile phones to kill time between rare customers.
"People are always walking around the mall but they don't seem to buy anything. They never carry any bags or go into the shops," said Rina, a spruiker for an upmarket fitness club.
Follow Emirates 24|7 on Google News.
With opulent attractions from children's rides and slippery slides to faux-European boulevards, the massive malls of Indonesia's capital are attracting plenty of visitors – but few buyers.