Data to verify fall in inflation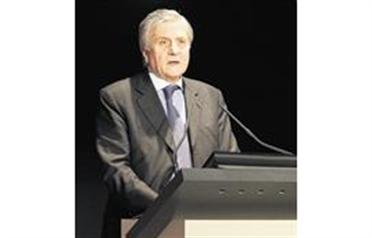 A sharp fall in oil and food prices is expected to be confirmed as the main drivers behind the slide in inflation to just 1.1 per cent in January when final official data is released on Friday.

Tumbling inflation comes as the eurozone economy stumbles into a much deeper and prolonged recession than most feared. The result could mean the European Central Bank (ECB) cuts rates even lower than the one per cent expected by the middle of the year.

A Reuters poll of 36 economists taken last week showed consensus expectations that final inflation in the eurozone fell to a near 10-year low of 1.1 per cent in January from 1.6 per cent the previous month. That figure, unchanged from the flash estimate, is expected to come down even more in coming months, well below the ECB's preferred close to but below two per cent.

Only two economists saw a revision to the final numbers, looking for 1.2 per cent.

"The fall should be mainly due to falls in energy and food prices," said Ben May at Capital Economics, who said demand was also weak, forcing retailers to push down prices. He said a combination of low inflation and a weak economy set the ECB up to cut rates much further from two per cent.

"We still remain confident that rates will go to zero or thereabouts as the ECB are forced to respond to weak economic events," he said.

A sharp fall in oil prices to under $40 (Dh146.92) a barrel has pushed inflation further down at the start of the year. But a deteriorating economy is also helping to slow consumer demand rapidly, forcing companies to slash prices.

On Friday ECB President Jean-Claude Trichet said there would be "very, very low inflation" this year. The ECB is expected to lower its inflation and growth forecasts when it updates its staff forecasts at its rate-setting meeting in March.

A separate Reuters poll last week showed inflation averaging 0.6 per cent this year, up to 1.7 per cent in 2010.

Low inflation has been matched by a steep slide in economic activity.

A key survey on Friday showed both the services and manufacturing sectors fell to record lows, taking away any thought that a stabilisation in sentiment was taking hold. The eurozone Economic Sentiment index should also point to a weak business climate in February, which is to be released tomorrow.
Follow Emirates 24|7 on Google News.