Deposit base keeps UAE banks on firm footing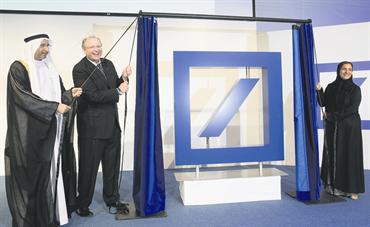 The Central Bank Governor said the main source of strength of UAE's banking system comes from its composition of predominantly commercial banks with a strong base of deposits.

"It is also worth noting that commercial banks are the best banking models that weathered the current global financial crisis. Inter-banking deposits of the UAE banking system constitute approximately 10 per cent of the liability and foreign inter-banking deposits constituting five per cent. This is a remarkable reduction as a result of increased reliance on customer deposits sourced within the UAE," he said.

There is no immediate need to inject further liquidity into local banks, said the chief of UAE Central Bank.

Talking to reporters on the sidelines of a ceremony marking the inauguration of Deutsche Bank's first UAE fully-fledged branch on Monday night, the Central Bank Governor Sultan Nasser Al Suwaidi said there is enough liquidity and ruled out any further liquidity injection into banks for the time being.

However, he said if there was a desperate need it will be considered. "When there is a need, we will consider it. But there is no need for further liquidity injection for the time being. The liquidity is good," said Al Suwaidi.

He said the Central Bank stands behind all UAE banks and branches of foreign banks operating in the country through provision of financial facilities when the need arrives. "Finance plays a very important role in the UAE economy. In larger economies they are known as core wheels of economies, and in our economy they are known as the backbone of the economy where figures strongly trade in investment and financial growth."

Finance in the UAE, Al Suwaidi added, continued to serve trade and investment and facilitate them in two way direction growth.

He said UAE's financing system is sounder with adequate liquidity than a year ago with foreign inter-banking deposits and medium-term notes (ETNs) and euro commercial papers (ECPs) issued by UAE banks reduced by about 20 per cent as at December 31 last year.

"Also the UAE's banking system did not stop from lending to the growth of economic sectors as loans and advances went up approximately to 2.3 per cent in the year 2009. This indicates the reliance of the UAE's banking system," he explained.
Commenting on the UAE economic growth, Sheikha Lubna bint Khaled Al Qasimi, Minister of Foreign Trade, said the country is currently witnessing a new phase of growth and development. She said: "The UAE spares no effort to formulate relevant trade laws and regulations on an ongoing basis, while providing a distinguished investment climate in line with best international standards, and also providing a work environment that is the competitive in the region and the world."

Sheikha Lubna also referred to recent international reports on UAE economic growth and said the country ranked fifth in the competitiveness report during 2010 and among the top ten in the list of reforms in 2010 according to World Bank's 'Doing Business' report.

She said the UAE also was included in the list of top countries whose economies depend on innovation, and notably it was the only Arab country on the list, which has all the developed countries. "The UAE outperformed the global average in the freedom of trade index according to Heritage Foundation's report, issued in December 2009."


Dubai World

Meanwhile, Henry Azzam, Deutsche Bank's CEO for Mena, said six months would be sufficient for the restructuring of Dubai World's debt. "Everybody is confident that we have to come to a solution," Azzam told reporters. When asked if six months would be enough time, he said: "Yes, I think so."
Keep up with the latest business news from the region with the Emirates Business 24|7 daily newsletter. To subscribe to the newsletter, please click here.
Follow Emirates 24|7 on Google News.