Divided US Senate unveils stimulus deal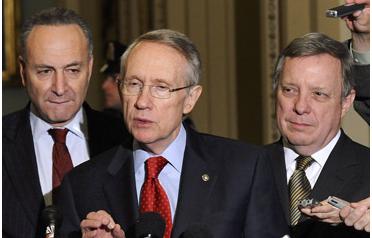 "We're doing everything we can to make sure that this severe recession we're in does not become another Great Depression," Senate Democratic Majority Leader Harry Reid said as Republicans already chafed at the compromise accord.
The bill's supporters noted that its price tag would be far smaller than the $937 billion previously under consideration, a reduction aimed at winning over elusive Republican support that was entirely absent when the House of Representatives passed its version of the measure last week.
Reid signalled that he believed his 58 Democrats had enough Republican support to secure the 60 votes needed to thwart any parliamentary delaying tactics and said a vote was coming "if not tonight, in the next day or so."
Under pressure from the White House and an ever-grimmer unemployment picture, lawmakers were to take up the compromise hatched behind closed doors by a group of swing-vote Republicans and Democrats.
"Our bipartisan group worked long and hard going line by line, dollar by dollar," said Democratic Senator Ben Nelson, a leader of the group.
"We trimmed the fat, fried the bacon and milked the sacred cows."
Details were elusive, but Democratic Senator John Kerry said the final total broke down into 42 per cent in tax cuts and the rest in government spending.
Republican foes of the original package trained their guns on the new agreement, which if passed would set the stage for the House and Senate to work out a compromise bill and vote on whether to send it to Obama.
"Most of us are deeply skeptical that this will work, and that level of skepticism leads us to believe that this course of action should not be chosen," said Senate Republican Minority Leader Mitch McConnell.
Republicans said their calculations put the new bill at roughly $830 billion, plus nearly $350 billion in debt service – meaning the overall price tag was about $1.2 trillion.
"We're talking about an extraordinarily large amount of money and a crushing debt for our grandchildren," said McConnell.
The White House, which set a February 16 deadline for Congress to deliver Obama a stimulus package, welcomed the compromise.
"We are pleased the process is moving forward and we are closer to getting Americans a plan to create millions of jobs and get people back to work," said Obama spokesman Robert Gibbs.
Obama, seeking a victory after early setbacks in his young presidency, had ramped up pressure tactics earlier on wavering lawmakers, stressing grim jobs news and planning to take his case to swing-vote senators' home states.
"It is inexcusable and irresponsible to get bogged down in distraction and delay while millions of Americans are being put out of work," Obama said. "The situation could not be more serious."
Labor Department data showed the US unemployment rate surged in January to 7.6 per cent, the highest since 1992, while the nearly 600,000 jobs lost was the worst such number since 1974.
"We're not in a depression," Senate Democratic Majority Leader Harry Reid warned colleagues as they opened a fifth day of deliberations. "We're not there, but we've got to do something to turn this around or we will be."
Obama planned to take two campaign-style trips next week, to Indiana and Florida, looking to highlight the crushing human toll of rising unemployment, as well as a primetime press conference to pressure lawmakers.
"I hope they share my sense of urgency and draw the same, unmistakable conclusion: the situation could not be more serious, these numbers demand action," Obama said. "It is time for Congress to act."
Follow Emirates 24|7 on Google News.
After days of bitter debate, President Barack Obama's Democratic Senate allies unveiled a pared-down plan on Friday to pump at least $780 billion (Dh2.9 trillion) into the US economy and vowed to pass it in days.