Downturn to be considerably deeper than IMF forecast: OECD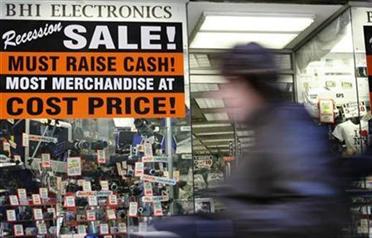 Further substantial cuts in interest rates by the European Central Bank and Bank of England are totally justified, he said in an interview. These were to be expected in response to the worst spell the economy has suffered since 1946, when military spending plunged after World War Two. "The recession will deepen...there's no doubt," he said. "I think this quarter will be the worst quarter of all." 
On January 28, the IMF cut its forecast for global growth to 0.5 per cent in 2009 from an earlier prediction of 2.2 per cent. It also forecast a 2.0 per cent slide in economic output from the world's most advanced economies as a whole, an equally large downgrading of forecasts it had made in November 2008. 
Even those drastic revisions failed to reflect the extent of the downturn at this stage, said Schmidt-Hebbel. He is preparing new forecasts for publication at the end of March by the Paris-based OECD, which will be cutting its own predictions from those it made last November. "The shape of it will be a significantly deeper recession than what was forecast by the IMF in January, at all levels," said Schmidt-Hebbel. "(It will be) significantly deeper and more protracted - meaning longer than what is embodied in the IMF forecasts of late January."
Last November, the OECD predicted a 0.4 per cent decrease in aggregate economic output this year from its 30 member countries. These include all of the wealthy industrialized countries and a handful of less mature economies such as South Korea, Mexico and Turkey. "The OECD economies will do significantly worse than the world economy because in emerging economy countries like the Indias, Chinas and some others, growth will still be slightly positive in 2009," he said.
Schmidt-Hebbel said the current quarter would probably prove to be the worst one in the international downturn, after an already very bad final quarter of 2008 where US output fell faster than in any quarter for 26 years.
The US Federal Reserve has pushed official interest rates close to zero and Japan's central bank is already at that point, though other central banks still have more leeway. "We are expecting, and forecasting formally, significant further interest rate cuts by the Bank of England, the ECB and a number of other OECD countries with independent central banks, toward very low rates, which I think is absolutely justified by the outlook on inflation and activity for the next one or two years," Schmidt-Hebbel said. This would be what the OECD would say on rates when it published its new official forecasts at the end of March, he said.
Reuters polls show economists expect the ECB to cut its main euro zone rate by 50 basis points from the current 2.0 per cent on Thursday and that the Bank of England too will lower its rate the same day from a current level of 1.0 per cent.
Schmidt-Hebbel said interest rate cuts had a limited power to support economic growth. That increased the need to consider less conventional moves, such as direct asset purchases, or "quantitative easing" of credit conditions along the lines being deployed in the United States and now Britain, he said.
Follow Emirates 24|7 on Google News.
The global economic downturn will be considerably deeper than even the International Monetary Fund forecast a month ago, the Organization for Economic Co-operation and Development's chief economist Klaus Schmidt-Hebbel told Reuters.