Dubai consumers spent Dh37.9bn in 2008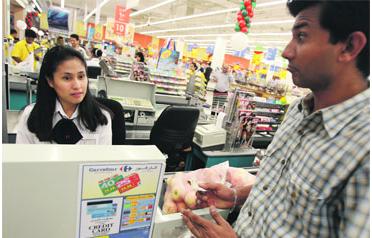 Total consumer spending by UAE national and expatriate families in Dubai was Dh37.9 billion in 2008, a recent report issued by Dubai Statistics Center (DSC) said.

Given the current global economic downturn and its impact on Dubai, the release of these numbers, exclusively to Emirates Business, takes on more than an informative hue.

Experts suggest that during hard times such as these, consumers need to look at protecting themselves.

The numbers provide a sense of how much is being earned and how much is being spent.

The results are from a survey that covered 4,031 families representing two per cent of the emirate's 203,140 families, according to the 2005 census. These included 1,208 national families, 2,159 non-national and 664 collective families.

Asian families came on top in the amount of their annual consumer spending due to their high number, with Dh14.6bn, which accounts for 38.6 per cent of the total consumer spending by families in Dubai.

The UAE national families come second with annual consumption valued at Dh9.7bn, which account for 25.7 per cent of the total consumer spending by families, followed by the Arab families with Dh5.3bn (14.2 per cent), Europeans with Dh4.6bn (12.2 per cent) and collective families, which live in one place and have family relationship or same nationality, with Dh3.5 million (9.3 per cent).

Total annual income of UAE national families in 2008 amounted to some Dh17.5bn. The income from salaries and wages of the families was Dh7.3bn and income from rents was Dh4.9bn.

Arab families' annual income totalled Dh7.6bn. Out of this, Dh6.4bn was generated by salaries and wages.

European families' annual income totalled Dh8.5bn of which Dh7.1bn came from salaries and wages.

The annual income of Asian families amounted to about Dh23bn of which Dh18.5bn came from salaries and wages.

The annual income of collective families totalled Dh8.2bn. Salaries and wages accounted for Dh7.3bn of the total income.

Europeans came first with an average annual per capita income of Dh180,000, followed by national families with Dh113,000, Arabs with Dh68,000, Asians with Dh60,000 and collective families with Dh38,000.

The Dubai Statistics Center said the data is important for programmes and economic and social development plans.

Hassan Al Kuthairi, an expert in consumer protection issues, attributed the highest spending by Asians to them accounting for 80 per cent of the families in the emirate.

He attributed the second highest spending by UAE national families despite their low numbers, to consumer traditions and habits.

Al Kuthairi called on all UAE national and expatriate families to re-consider their consumption habits and follow advertising campaigns.

He said the amount of consumption should decrease by 30 per cent, especially during the current international financial crisis.
Follow Emirates 24|7 on Google News.