Dubai Trade records six million deals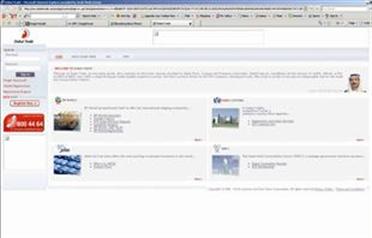 Online service provider Dubai Trade recorded more than six million online transactions on its portal in 2008. This marked an increase of 50 per cent compared to user activity in 2007, when the number of transactions made was 4,000,000.

The rise in the rate of usage of Dubai Trade's electronic platform was supported by a 90 per cent increase in the services it provided in 2008 to entities directly concerned with commercial transactions such as DP World, Dubai Multi Commodities Centre and Economic Zones World – flagship companies under Dubai World – and Dubai Customs. A total of 612 online services are now accessible on the portal, compared to 345 in 2007.

"It gives us immense satisfaction that our efforts to boost electronic transactions have come up with good results. This goes a long way in streamlining trade flow in the emirate.

"Dubai Trade is committed to continue providing effective support to Dubai's trading community in a bigger way. Our efforts on this front won World Bank's praise last year," said Director Mahmood Al Bastaki.

Dubai Trade, part of the Dubai World Group, caters to entities directly concerned with commercial transactions such as DP World, Dubai Customs, Dubai Multi Commodities Centre and Economic Zones World. It's locally developed portal www.dubaitrade.ae is the centralised online platform for all transactions with these companies.

Built to cover the entire supply chain, it is a vital link between the trading community and key industrial sectors.

The rise in the number of transactions made through Dubai Trade's portal is indicative of the fact that the trading community is now more aware of the benefits of direct online dealings with entities such as ports, free zones, customs, etc.

The comprehensive coverage of electronic payment services has made considerable positive impact on trade in terms of saving time and energy and cutting cost.

Dubai Trade's role in business facilitation in the UAE came up for World Bank's recognition in 2008, when the international institution made special reference to the online service provider's contribution in boosting the country's ranking in the revised 'Doing Business Report' for 2008 and the report for 2009.

The World Bank report described the data prepared with Dubai Trade's key stakeholders on the export and import procedures, timelines and costs to be of "utmost quality, which is key to the success of the entire report."

The submitted data led the World Bank Doing Business team to modify the UAE's ranking in the 'Trading Across Borders' category from 24 in 2008 to 14 in 2009. This also boosted the UAE's overall ranking in "Ease of Doing Business" for 2009 by 22 positions, from 68 in the 2008 report to 46 in 2009. The report is an evaluation of business regulations and their enforcement across 181 economies and selected cities.

As part of its initiatives to fine-tune services to achieve higher levels of excellence in 2009, Dubai Trade has recently been engaged in performance evaluation through customer outreach programmes.

Senior officials directly interacted with leading players in the trading community to get their feedback on its services, assess their needs and find areas of improvement.

This has helped the online service provider formulate its future plans. Constant upgrades have also kept its services at pace with the changes in technology.
Follow Emirates 24|7 on Google News.