Economic turmoil dominates Davos forum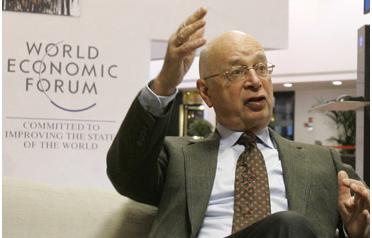 The avalanche of bad news in recent months has turned this World Economic Forum into one of most gloomy held since the elite meetings at the Swiss mountain-top resort started nearly four decades ago.
Chinese and Russian premiers Wen Jiabao and Vladimir Putin were to give the keynote opening speeches at the start of the five-day event.
Germany's Chancellor Angela Merkel and the British and Japanese Prime Ministers Gordon Brown and Taro Aso – who have between them spent hundreds of billions of dollars battling the crisis – were also among about 40 heads of state or government who will speak this week.
Some countries will use the heavily guarded Davos crisis retreat to seek help. Turkey's Prime Minister Recep Tayyip Erdogan was to meet top International Monetary Fund officials in a bid to end differences over a loan deal to help Turkey through the crisis.
But with much attention on US President Barack Obama's efforts to get a $825-billion (Dh3 trillion) stimulus package through Congress, grim predictions for the efforts made so far to repair the world economy were made as soon as debates started.
South Africa's Finance Minister Trevor Manuel said developed nations appeared to be adopting a "lemming-like approach, trying to get to the precipice without knowing what their money would buy." He said there was a real risk wealthy nations would come out of the crisis with massive debts.
Davos delegates were also seeing new signs that the battle against the worst recession since the Great Depression of the 1930s was becoming ever tougher.
Confidence among chief executives at more than 1,100 top companies around the world has "plummeted", according to a survey by consultants PricewaterhouseCooper released in Davos.
"The speed and intensity of the recession has rocked the psyches of CEOs and created a global crisis of confidence," commented PwC chief executive Samuel DiPiazza.
The main theme of the forum will be "Shaping the Post-Crisis World" and its founder Klaus Schwab said the crisis highlighted the need to reform financial institutions and systems.
"It is a call to remind us of the need to adjust our values to the needs of a world that rightly expects a much higher degree of responsibility and accountability," he said.
The massive bank losses and layoffs on Wall Street and in the City of London will be reflected in the absence of key bankers who held high profile parties and receptions in earlier years at Davos.
John Thain, head of Merrill Lynch, which had to seek a takeover by Bank of America, resigned last week. Goldman Sachs, previously one of the social highlights of Davos, has called off its party this year.
The economic storm has overshadowed attempts to highlight other key issues ranging from conflict zones around the world and climate change to efforts to spread democracy and ease chronic Third World poverty and sex discrimination.
Afghanistan's President Hamid Karzai and Pakistan's Prime Minister Syed Raza Gillani were to appear together at a debate on the war in Afghanistan and the mounting strife in its neighbour, Pakistan.
Bill Gates, the former Microsoft chairman, was to plead the case for new efforts to help the poor. He announced this week that his charitable foundation had lost 20 per cent of its endowment in the financial crisis and was down to $35 billion last October.
The star appeal at this year's forum was being provided by Chinese action film star Jet Li and Amitabh Bachchan, the Bollywood superstar. They are to attend a "cultural leaders" dinner on Friday.
Follow Emirates 24|7 on Google News.
New warnings over the gravity of the global recession were made on Wednesday as world leaders and hundreds of top financial and corporate chiefs started talks at the annual Davos forum.