EFG-Hermes CEO rules out need for capital hike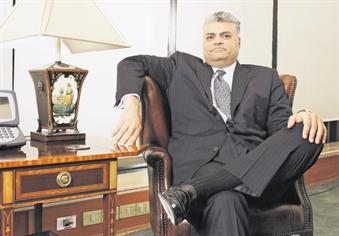 EFG-Hermes, Egypt's largest investment bank by market value, has a solid balance sheet with capital in excess of $400 million (Dh1.46bn) and does not need a capital hike, said the bank's CEO.

"I say categorically that we are in no need of capital. We have cash on our balance sheet in excess of $400m," said Chief Executive Yasser El Mallawany.

He added his bank had not invested in sub-prime products and other assets that sparked the credit crisis.

EFG-Hermes and Lebanon's Bank Audi said last year they had broken off merger talks due to unfavourable market conditions. El Mallawany said the time was still not right to discuss such a deal.

"We cannot today discuss a transaction," El Mallawany said referring to a possible full merger with Audi Bank. "The market is not proper," he added. EFG-Hermes said at the time it did not intend to sell its 23 per cent stake in the Lebanese bank.

El Mallawany said the bank, which is aggressively expanding in the region, was cutting costs but continued to hire Arab-speaking bankers, mainly from foreign banks.

The executive said the crisis, which has seen about 300,000 jobs already evaporating, gave EFG-Hermes an opportunity to hire talent.

The CEO said he still saw merger and acquisition activity as possible for his bank.

EFG-Hermes, which has recently acquired a stake in a brokerage in Kuwait, said the acquisition remained key despite a fall in valuation.

"There is a scarcity of licences to operate on-shore in Kuwait. So there is always a value attached to an acquisition [of this kind]," he said.
Follow Emirates 24|7 on Google News.