Egypt confident of riding out crisis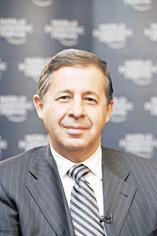 Egypt believes it can withstand the economic crisis with a balanced current account and steady currency, but fears the world is facing a serious risk of protectionism, Trade and Industry Minister Rachid Mohamed Rachid said yesterday.

Rachid said falling prices for commodities such as wheat and oil products imported by Egypt were compensating for slowing demand in its key US and European markets.

"We are hoping that we can get a balanced situation this year. But we know it's going to be challenging," he said.

In the 2007/2008 fiscal year ended June, Egypt had a surplus on the balance of payments of $5.4 billion (Dh19.8bn), but in the first quarter of the current year ended September the surplus was down to $500 million, trade and industry figures show.

Egypt expects both imports and exports to fall by about 20 per cent in value terms this year, after rising 30 per cent a year for the past three years, Rachid said.

The most populous Arab country sells 60 per cent of its exports to the United States and Europe, but that figure is down from 85 per cent four years ago, and Egypt is continuing to diversify into other markets in Asia, the Gulf, Africa and even Latin America, where demand is holding up better than in developed countries.

"There is definitely quite a gap now between the impact of the crisis in places like Europe and emerging markets – we can see that from our trade numbers," he said.

With some 80 per cent of tourists coming from Europe, tourism – one of Egypt's main export earners – will be under pressure this year, Rachid said.

Another important source of revenue – income from the Suez Canal – has been hit by the slowdown in world trade, with declines in traffic of 30 per cent on some routes, he said.

The external accounts outlook and relative health of Egyptian banks means the Egyptian pound is steady against the US dollar, he said. "We are not seeing any pressure on the currency at the moment. On the contrary because of the banking situation in Egypt... the fact that we are still hoping to have a balanced current account in terms of dollars, there are no pressures whatsoever at the moment for the currency to devalue," he said.

That means the pound is continuing to appreciate against the euro and sterling, he said.

Rachid forecast foreign direct investment would slow this year to $10bn from $14bn a year ago, but still well up on $2bn four years ago. On the long-running Doha round of free trade talks, Rachid said the economic crisis meant it will be much harder to clinch a deal. Ministers failed to agree in July last year and World Trade Organisation Director-General Pascal Lamy decided against another push last month, he said.

"We had a real window of opportunity to conclude the Doha round... things look much much tougher now," he said.
Follow Emirates 24|7 on Google News.