Even a sharp fall in oil won't hit Mena budgets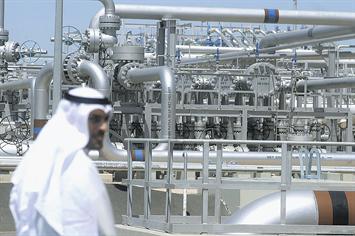 Governments in the Mena region will be able to finance their budgets even if oil drops to $50 a barrel, but 2010 will be positive yet challenging for fund managers, according to ING Investment Management (ING IM) analysts.

With this optimistic view, ING's equity team envisages focus on oil and gas and petrochemicals sector followed by infrastructure, fertilisers, consumer and exports this year.

Fadi Al Said, Senior Fund Manager and Head of Equities, Middle East, ING IM, said: "In 2010, we are not advocates of very high oil prices. We believe oil prices will be in the range of $65-$75 a barrel. This is how we are building our expectations that will translate into higher confidence in the budget. Increase in infrastructure spending will have very good impact on the oil and gas sector, petrochemicals sector.

"It will improve the comparative advantage that the producers in the region have because of the fixed cost structure and lower prices of natural gas. Other thing we are trying to focus on infrastructure related space."

Taking a conservative approach, ING IM in its 2010 outlook for the region expects that oil prices even at $50 a barrel, the government budgets of most of the GCC countries can be financed as planned.

Interestingly, in 2010 alone, the GCC estimated government spending is pegged more than $300 billion (Dh1.10bn).

ING IM's equity team, which manages ING (L) Mena fund, expects 2010 as positive but challenging for fund managers. "We are starting the year with low expectations, which is a very good thing for the equities. When you start from very upbeat kind of expectations, like that happened in 2008, usually you end up with disappointments. Bad news sometimes means good news. Because we are stating with humble expectations, low expectations, this is a very strong framework to start the year," said Fadi Al Said. "This is exactly how we started 2009. We were advocates of solid view for equity market in 2009. We invested our funds, which was the best performing fund with returns of 33.5 per cent. I think it [2010] will be a more challenging year for us, but a positive one."

Nish Popat, head of fixed income, Middle East, ING IM believes that the challenges for 2010 will be to find the right opportunities as new issuances are expected to be lower and volatility anticipated to rise, which will provide opportunities for the managers, who have done their due diligence through credit analysis, to take advantage of mis-pricing of different credits. "A clear differentiation of credit markets has emerged in the Mena region, due to individual sovereign strength, which will continue to play in investors mind," said Popat.
Keep up with the latest business news from the region with the Emirates Business 24|7 daily newsletter. To subscribe to the newsletter, please click here.
Follow Emirates 24|7 on Google News.