Export plunge leads German GDP contraction in 2008 Q4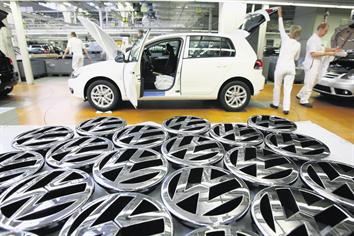 Foreign trade dragged down German gross domestic product (GDP) in the final three months of 2008, reducing Europe's largest economy to its worst quarter since reunification in 1990, official data confirmed yesterday.

The Federal Statistics Office said the economy contracted by 2.1 per cent in the final quarter of last year, in line with a preliminary estimate published earlier in February.

The contraction was led by foreign trade, which shaved two percentage points from the quarterly growth total, the Office said. Exports fell by 7.3 per cent on the quarter, and imports declined by 3.6 per cent.

The negative GDP contribution from foreign trade highlighted the impact the global downturn is having on Germany, which as the world's biggest exporter of goods had enjoyed booming foreign demand until earlier last year.

"Although structurally healthy, the German economy is suffering more than almost anyone else from freezing global trade," said Carsten Brzeski, economist at ING Financial Markets. "A recovery in the truest sense of the word will only materialise in 2010."

The auto sector, which accounted for the biggest chunk of German exports in 2007, is feeling the brunt of the downturn.

Assembly lines at some Volkswagen plants in Germany fell silent on Monday as Europe's biggest carmaker switched to a short working week for the first time in 26 years.

Scaled-back production at six VW brand plants in western Germany and one plant in eastern Germany affected 61,000 workers as VW aimed to keep inventories of unsold cars from piling up.

On an annual basis, GDP shrank by a workday adjusted 1.7 per cent in the fourth quarter.

Inventories added 0.5 percentage points to the quarterly GDP growth total, but an unwinding of stocks is likely to hit the first quarter 2009 result, economists said. Gross capital investment subtracted 0.5 percentage points in the fourth quarter.

The October-December period was the third quarter in a row in which the economy shrank.

Government sources have already said further contraction is likely in the first quarter.

The government expects the economy to contract by 2.25 percent this year. Since World War II, Germany's economy has never contracted by more than one percent in a single year.
Follow Emirates 24|7 on Google News.