Forget crisis, it's business as usual for some sectors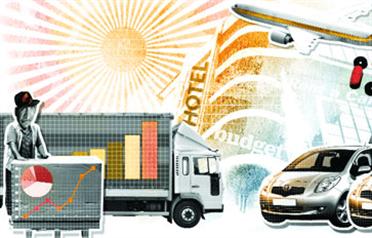 Even as most sectors are posting declining profits and some fighting for survival in current times, there are a few that are reporting good business and expect to remain more resilient to the recession than the overall market.

Low-cost airlines are one of the few sectors to perform well during recession, and the results of Air Arabia, one of the well-performing budget airlines in the region, proves that.

According to Housam Raydan, Corporate Communications Manager of Air Arabia: "The fourth quarter of 2008 saw a considerable increase in the number of passengers travelling Air Arabia. The year 2009 is a challenging year for airlines and we hope we will sustain our growth figures by offering competitive prices and value for money travel", he told Emirates Business.

Even the profile of passengers travelling Air Arabia has changed. "In the past few months, we have seen an increased number of business and leisure travellers flying Air Arabia," he says.

Citing the recent survey of business and leisure travellers conducted by YouGovSiraj, Raydan says "the number of UAE-based leisure travellers who shifted from premium to economy increased by seven per cent between October 2008 and January 2009. During the same period, the number of UAE-based business travellers who said they expected to fly economy increased by 12 per cent, pointing to significant opportunities for LCCs like Air Arabia".

Leasing out cars is also a good business. More people in Dubai are opting for renting cars as compared to buying these days, says Sam Eltibi, Executive Director, Dollar Thrifty Automotive Group, Middle East and North Africa & Asia Pacific.

"I do not have official statistics, but people are renting as they are waiting for the whole situation to clear. If you are unsure about your job, what do you do? You will not commit for long and will rent," he says.

And as consumers tighten their belts, smaller cars remain in demand. "Mass demand was and still is for smaller sized vehicles at all times," adds Eltibi.

Healthcare is another sector, which has shown resilience in an economic downturn. According to Bas AW Verhoef, VP and CEO of Philips Healthcare in Europe, Middle East and Africa, the healthcare segment of Philips has out-performed all other sectors under the Philips umbrella, globally and regionally.

"Philips Healthcare is growing very rapidly in the region, especially in Saudi Arabia. We have seen an increased demand for all our products and services. Our growth in Picture Archiving Communication System (iSite Pacs) was phenomenal. In 2007, we grew by 34 per cent and in 2008 by around 20 per cent, not withstanding the financial crisis," he told this paper recently.

Movers and packers/freight companies are also showing good results. Right from local players to the more established ones, freight companies seem to have their hands full.

Many people are being forced to move as they loose or switch jobs. All in all, there is lots of good business for movers and packers in Dubai, say some local players.

Aramex, one of the leading freight companies, has reported 2008 as a good year for business. "We were able to maintain our revenue growth and profit margins at a very healthy level, a result of a very serious effort to control the upward spiralling costs in the first nine months of the year," says Fadi Ghandour, founder and CEO of Aramex. "We have a very healthy balance sheet with little debt, and we intend to keep it that way in 2009," he adds.

Budget hotels also have shown a good level of resilience. Sami Al Ansari, CEO, Ishraq Gulf Real Estate Holding, which manages Holiday Inn Express Hotels in the region, believes budget hotels have historically shown to be a recession-resilient product offering, and is well positioned to outperform the mid and luxury markets in today's downturn.

"This sector have shown defensive qualities in previous downturns as business customers and individuals tend to trade down the lodging scale. During Europe's last down cycle in 2002, the budget segment proved to be the most resilient," he says.

"Ishraq portfolio of Holiday Inn Express Hotels across Dubai has in the past four months outperformed the market occupancy by an average of 10-15 per cent," he adds.

Increasingly more people in Dubai are opting for budget hotels as compared to expensive hotels. "Many global firms have issued directives restricting business travel stays to branded limited service/budget hotels. We at Holiday Inn Express have in the past three months signed up many new corporate accounts that have in the past traditionally used high/mid-market hotels. After all the branded limited service hotels such as the Express offer business travellers quality lodgings at affordable rates," he explains.

FMCG is another sector that proves to be more stable during challenging times, with companies in the industry continuing to increase their overall communications budgets.

According to Amr Farghal, Business Unit General Manager, Middle East and Africa, Fonterra: "FMCG has always been the most stable industry over the past few decades compared to other sectors. This sector, I believe, is the one investors should be focusing on right now."

FMCG also happens to be a top spender when it comes to advertising. Advertising and media experts have nominated FMCG as one of the main top spenders in the aftermath of the global crisis. With real estate advertising cut to the minimum, they say more space will be available for FMCG at cheaper rates, including outdoor.

Despite the good performance, even these resilient sectors believe that as a market sector they are not recession proof.

"No one in the transport sector is recession proof. However, in these times of economic uncertainties, individuals become careful of high expenditures. So, while passengers would like to travel, they seek greater value for their money. And low-cost carriers such as Air Arabia do provide passengers value for their money, sometimes even more," says Raydan.

Agrees Eltibi: "Like every other industry, car rental is prone to be affected by recession [but] latest market dynamics helped this business maintain its utilisation."

Lack of credit made people rent rather than buy cars, he adds. Car rental business also performs well even in normal circumstances, according to Eltibi. "Today, car rental is a basic service provided in every market. When the going gets tough people lease than buy to free capital. When times are good, tourists and leisure customers rent," he says.

"Increased pressure on room rates across all classifications have resulted in a drop of room rates of 40-60 per cent," says Ansari while talking of budget hotels.

FMCG is also touched by this downturn. It does not go without facing challenges of consumer trend changes, under pressure of the economic downturn. Fears of consumers shifting to unbranded dairy products are valid, said Farghal.

"Definitely, consumers are now sharply scrutinising their shopping basket to make sure they stretch their dirham to the maximum, but price is not the only factor that affects their purchase decisions. They are also looking for value-added products and I don't think they will compromise nutritional values for the sake of price."

Farghal said, however, the market has not reached a stage that requires revisiting the product line up to meet changing consumer demands. "I think consumers are just going through a phase of uncertainty. Once this is behind us things will go back to normal." (Inputs by Dima Hamadeh)


Financial figures

AIR ARABIA

Air Arabia achieved a net profit of Dh510 million for the financial year ending December 31, 2008, compared to a net profit of Dh376m in 2007, an increase of 35.6 per cent. The carrier posted a turnover of Dh2.066 billion in 2008, up 61 per cent compared to Dh1.283bn in 2007. Passenger average load factor – passengers carried as a proportion of available seats – stood at 85 per cent.

A total of 3.6 million passengers chose to fly with Air Arabia in 2008. This is an increase of 33 per cent compared to 2.7 million passengers in 2007.

For the fourth quarter of 2008, Air Arabia posted a net profit of Dh136m, up 45.4 per cent compared to Dh93.49m during the fourth quarter of 2007. For the fourth quarter of 2008, the carrier posted a turnover of Dh571m, up 53.3 per cent compared to Dh372.37m in the same period of 2007. During Q4 2008, the airline served 959,067 passengers, an increase of 29 per cent compared to 745,000 passengers during the same period in 2007.

In 2008, Air Arabia introduced seven new destinations, and now serves 44 destinations across the Middle East, North Africa, Indian Subcontinent, Eastern Europe and Central Asia. The carrier also announced its new hub in Morocco that is set to commence operations by the end of first quarter of 2009. Air Arabia also announced the launch of a 300-room budget hotel, and introduced new services such as its early check-in procedure and seat selection.

PHILIPS HEALTHCARE

Philips healthcare reported nine per cent comparable sales growth, driven by robust growth in Imaging Systems, Healthcare Informatics and Customer Services. Comparable sales in Clinical Care Systems increased by three per cent. Newly acquired Respironics grew 12 per cent on a comparable basis; their comparable growth is not included in the nine per cent overall growth in Healthcare sales.

Healthcare's EBITA of €366 million (Dh1.7bn) included €89m of charges related to restructuring and acquisitions. Excluding these charges, EBITA was €455m, or 17.7 per cent of sales.
Follow Emirates 24|7 on Google News.