Free zones propel economic growth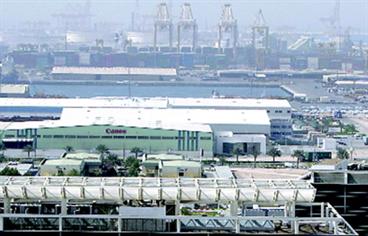 As Dubai begins to consider aspects of growth other than real estate, it looks towards its promising free trade zones (FTZs).

The promise that the free zones hold – which apparently have been there in one form or other for centuries – has been strengthened by the recent news that the companies located in these zones will enjoy the same benefits in the GCC customs union as those registered under the local commercial laws.

Emirates Business recently reported that FTZs may be exempted from GCC customs duty. While goods manufactured within the territory of a GCC country are allowed free passage along the borders of GCC, a tax needs to be paid for exporting goods manufactured in free zones.

"Efforts in this regard have been spearheaded by the UAE. And the setting up of GCC Standards Organisation has made the flow of goods between GCC member states easier," said a senior official of the Dubai Export Development Corporation (DEDC).

Data presented by the Dubai World Statistics Department shows that in Q1 2009, trade from FTZs was almost half of the total foreign trade from companies registered as LLCs under Dubai's commercial laws.

While the trade volume and monetary value for exports from free zones stood at 5,076,067,064kg and Dh59.8 billion in the first quarter of 2009, the corresponding figures for industries located outside the FTZs was 10,508,982,710kg and Dh12bn. Similarly, in the second quarter of 2009, the total monetary value of exports from free zones stood at Dh63bn while it stood at Dh116bn for companies registered under Dubai commercial laws.

"We are continuously making efforts to raise these figures. As a part of its sustained efforts, the DEDC has regular training sessions for exporters. We try to help in whatever way possible," the DEDC official said.

Analysts suggest that Dubai will need to look towards a linkage to China to give an impetus to the FTZs involved in re-exporting. "I think the key word when one looks at the success of the FTZs is 'sustainability'. They have stood the test of time and really have been a great success story for Dubai. No doubt a renewed focus on this sector to leverage this success will make sense. I suspect that looking towards the Far East and China will bear fruit as traders and manufacturers in China and elsewhere become more sophisticated in their approach to the overseas markets," said John Wright, former CEO of Bank of Oman.

"The position of Dubai is excellent for this purpose as it sits in a very central location in terms especially of Europe, Africa and the Far East. Also the fact that as Emirates airlines is based here and provides direct flights has a very special advantage. I am very familiar with one major British company that selected Jebel Ali Free Zone (Jafza) as its major centre for their international business some years ago and have been delighted with the success they had enjoyed," said Wright.

Dubai would particularly benefit if Iraq and, in the long run, Iran joined the real world of commerce, economists said. "To be very honest, the free zones do not require any real strengthening except in the context of them benefitting from a much more robust banking infrastructure, and far less focus on property. Dubai has been around for 750 years. Dubai has always thrived on being the trading hub – a real economy of the Gulf," said Bill Hubbard the Chief Economist with the Swiss forex bank MIG Investments.

In attempts to join the global trend of becoming a knowledge-based economy, Dubai's free zones will have to focus on aspects such as health, education and technology research in 2010, said economists. Furthermore, even though industries have their own benefits, Dubai will have to streamline its resources into aspects that make it a services hub besides a manufacturing centre. The emirate should try to emulate standards set by Singapore – the country it recently ratified an FTA with – they said.

Being at the heart of the Middle East and arguably the world, gives Dubai an edge to develop itself into a consumer driven, services propelled and knowledge based economy.

While awareness towards Dubai's free trade zone may be limited to Jebel Ali or to the newly-emerged media and internet cities, the real figure is astonishing. A total of 26 free trade zones exist in Dubai now.

Dubai's FTZs were established to attract foreign capital and investors by offering incentives such as a 100 per cent foreign ownership of the enterprise, complete import and export tax exemptions and complete expatriation of capital and profits.

The country charges no corporate taxes for 15 years and this facility is renewable for an additional 15 years.

An independent Free Zone Authority governs each of these free zones, and is the agency responsible for issuing FTZ operating licences and assisting companies with establishing their business. Most of the free zones are tailored to meet the needs of industrial, shipping and manufacturing enterprises. As such, the FTZs tend to be located near major ports and have large warehousing and storage facilities available. The exceptions are Dubai Internet City (DIC) and Dubai Media City (DMC). DIC is a unique free zone dedicated to IT and e-business companies wishing to set up bases in the Middle East. DMC is a FTZ based on the same concept as DIC, but with a focus on media rather than IT.

Those conducting business from within free zones say that such zones have helped bring them onto an international platform. "The first benefit that one gets from locating his business in a free zone is that you don't need a local partner. There are several other benefits. There are no taxes. Furthermore it's easier to draw foreign direct investment (FDI) to a free zone," said Fahim Rashid the Regional Director (Marketing) with DMCC-based GTL Trading.

"There are several benefits of operating out of a free zone and they become apparent if one compares the performance of a free zone company with a non-free zone company," said Harish Pawani, who owns jewellery firms both within and outside FTZ.

Following are the accomplishments of some of the free trade zones in Dubai:

Dubai Airport Free Zone

This was among the first batch of free zones in the UAE and was established as a part of the Dubai Government's ambition to be an investment driven economy.

Dubai Airport Free Zone is one of the fastest-growing free zones in the region and is currently home to more than 1,300 companies from various industry sectors, including aviation, pharmaceutical products, logistics and freight, jewellery, IT and mobile phones accessories. Dubai Free Zone Logistics Centre and Dubai Cargo Village which have the capacity to handle 1.5 million tonnes of freight annually, are part of Dubai Airport Free Zone.

Dubai Logistics City

When completed, the Dubai Logistics City will be the world's first truly integrated logistics platform with all transport modes, logistics and value-added services, including light manufacturing and assembly, in a single customs bonded free zone environment.

It is part of the Dubai World Central, the upcoming Dubai World Central International Airport and located adjacent to the Jebel Ali Port and Free Zone. Dubai Logistics City aspires to deliver a business-friendly free zone platform, offering state-of-the-art infrastructure and services operated by highly experienced logistics professionals.

"Work is in progress on the Dubai Logistics City, however, I cannot give an exact date on when will it be complete. The project will take shape in stages. It's a huge project and will be connected to the port as well as the airport. The freight volumes passing through Dubai will increase to 12 million tonnes once the City is complete. At this stage, the Dubai airport handles 1.5 million tonnes a year and we will be able to achieve such a volume in a month. As of now, a lot of countries depend on Dubai for their supplies," Captain Mansoor YA Ghafoor, President of National Association of Freight Logistics (NAFL) recently told Emirates Business in an interview. Mansoor supported Wright's view that Dubai needs to link its FTZs to trade with China. "Dubai's import-export trade zone is being driven by the geographical location of Dubai and the facilities that the emirate provides. We have been handling large volumes of exports from China.

"There is a trend to bring exports from China and other countries to Dubai by sea and then re-export from here. That would involve transporting goods to Dubai by sea and then airlifting from here for destinations in Europe and United States," he said.

"Textile exporters in Bangladesh and India are using the same methods to enhance their exports. In fact, such trade is being carried out in both directions.

Ship is probably the cheapest way of transporting cargo with the freight being charged on the basis of total tonnage. In air-transport freight is charged on the per kilogramme basis. A combination of the two therefore minimizes cost with the cargo being delivered quicker. In Dubai, we ensure that the cargo is moved to the airport in the shortest period of time," he said.

Jebel Ali Free Zone

About 6,100 companies operate out of Jafz today. Jafz is built over an area of 48 square kilometres and is considered one of the world's largest and the fastest growing free zones. The data available on Jafza's website claims that in its 23 years of operation, the free zone has grown about 330 per cent.

Situated between Jebel Ali Port, the world's sixth largest seaport and the upcoming Al Maktoum International Airport, the world's largest cargo airport, Jafza is the only free zone in the world to be located between two major logistic enablers. Jafza is well positioned to enable its partners the fastest possible access to a market of more than two billion people in South and West Asia, the CIS and Africa. Jebel Ali Port is part of DP World, which is the fourth largest port operator in the world with 49 marine terminals and 12 new developments across 31 countries. In 2008, DP World handled more than 46.8 million TEUs across its portfolio from Americas to Asia.

Dubai Internet City

Information and communications technology (ICT) companies have set up their offices in DIC. It is the Middle East's biggest ICT infrastructure, built inside a free trade zone.

DIC is a strategic base for companies targeting emerging markets in the region extending from the Middle East to the Indian subcontinent, and from Africa to the CIS countries, covering two billion people with a GDP of $6.7 trillion (Dh24.6trn).

Most of the global ICT giants are here, including Microsoft, Oracle, HP, IBM, Dell, Siemens, Canon, Logica, Sony Ericsson, Schlumberger and Cisco, as well as many small and medium enterprises and entrepreneurial ventures. The ICT cluster in Dubai Internet City comprises companies from various sectors: software development, business services, e-commerce, consultancy and sales and marketing.

Dubai Media City

Strategically located in Dubai at the crossroads of the Middle East, Africa and South Asia, Dubai Media City has rapidly emerged as a global media hub. DMC provides an advanced infrastructure and supportive environment for media-related businesses to operate globally out of Dubai.

DMC is a place where every kind of media business can operate. Companies can specialise in anything, from media and marketing services, printing and publishing to music and films. Since its inception, Dubai Media City has grown impressively.

The list of DMC-based companies today reads like a who's who of the global media industry. The community includes global media giants such as Reuters, CNN, CNBC, MBC, Sony, Showtime and Bertelsmann. Dubai Media City has also set up Media Business Centres to promote entrepreneurship in the region. These facilities are targeted at freelancers and independent media professionals.

Dubai Biotechnology and Research Park

A member of Dubai Holding, DuBiotech accommodates the biotechnology industry and facilitate government-funded research and development (R&D). DuBiotech provide facilities and services for incubators, R&D labs, biotech-related educational and research institutions, manufacturing as well as organisations from supporting and convergent industries.

DuBiotech aims to facilitate a rich environment for networking and collaboration within the biotech community by offering products such as office space, laboratory space, land area for manufacturing and R&D operations.

DuBiotech regulations are to be developed in accordance with international standards set by regulatory organisations such as the FDA, WHO and ICH which govern all sectors of the life sciences industry, including biotech, pharmaceutical, diagnostic and medical devices.

DuBiotech has partnered with leading national and international institutions such as: RTI International, Frankfurt Biotechnology Innovation Centre and Centre of Excellence for Applied Research and Training.

Dubai Healthcare City

The Dubai Healthcare City (DHCC) has been launched with the aim of filling up the gap between Europe and South East Asia and establishing a regional gateway for customers and patients to receive world-class healthcare and enjoy first class medical and wellness services.

Dubai offers significant business opportunities to local and international investors, regional businesses and the global healthcare industry by establishing DHCC.

Dubai Knowledge Village

Dubai Knowledge Village (DKV), launched in 2003, allows academic and vocational training institutions to set up their campuses in the emirate. Its campus aims to set the environment for a knowledge-based sector with many professional training centres and learning support entities.

It was conceptualised as part of a long-term economic strategy to develop the region's talents, in an effort to introduce new skills and the latest learning methods and tools following international standards of upgrading individual skill and professionalism.

DKV has more than 300 partners originating from different countries of the five continents. They have crossed the world to set up training and professional centres, institutes and HR companies.
Keep up with the latest business news from the region with the Emirates Business 24|7 daily newsletter. To subscribe to the newsletter, please click here.
Follow Emirates 24|7 on Google News.