GCC women to get enhanced role in economy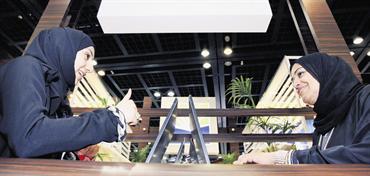 The UAE and other Gulf oil producers could step up plans to give women a greater role in the domestic economy as they pursue plans to reduce their reliance on foreign labour, according to a regional study.

Although they have made headway in their push for jobs, women in the six-nation Gulf Co-operation Council (GCC) are still concentrated in the public sector as their share of the private labour market has remained minimal, said the study, published in the GCC Secretariat's quarterly bulletin, Attawun (co-operation).

The study said women in the conservative GCC countries, which control nearly 45 per cent of the world's recoverable oil deposits, have joined the labour market only recently because of previous social barriers. But it noted that such barriers have started to collapse following the discovery of oil and the influx of massive numbers of foreigners to the region, adding that persistent conflicts and other factors have also precipitated the change.

According to the study, expanding women's role in the economy as well as in politics and other sectors would contribute to lessening poverty and this would help increase the living standards of GCC families.

"The GCC's programmes to nationalise jobs and gradually dispose of expatriate labour, which currently accounts for the bulk of the workforce in the region, are based on the ideal utilisation of national manpower and expansion of local women in the labour market in member states," it said.

"We can say that such measures have combined with education and training to largely increase the role of women in the economy… but their participation has remained confined to the public sector as their presence in the private sector is still negligible. It is hoped that the global crisis which has had adverse effects on all sectors in the region could expedite social and economic measures in member states since confronting those consequences require manpower development and building of national human resources, including women."

Its figures showed women have made substantial progress in the public sector, with their number in government jobs accounting for 40 per cent in the UAE. They also form nearly 57 per cent in senior administrative jobs and as high as 87.5 per cent in other administrative jobs.

In Bahrain, women's share of the public jobs is estimated at 37 per cent while it stood at 30.1 per cent in Saudi Arabia, 33 per cent in Kuwait and 30 per cent in Qatar. In Oman, women appear to be expanding their role in several sectors in public sector jobs with ongoing government encouragement," it said.

The study said GCC countries, where foreigners are estimated at more than 12 million, need to give equal treatment to women as men.

"We should stop looking at women separately from men. They both complement each other and both should contribute to domestic development," it said.

"Development in the GCC should give more attention to expanding the women's role in the economy by encouraging them to work in the private sector. They should also be granted full political rights and there should be national strategies that will focus on promoting the role of women in the region, taking into consideration our Islamic values and social traditions."

In another study, a UAE academic urged Gulf countries to issue new legislation to encourage women to take up jobs and end discrimination against them.
Keep up with the latest business news from the region with the Emirates Business 24|7 daily newsletter. To subscribe to the newsletter, please click here.
Follow Emirates 24|7 on Google News.