GE hints at deal with Mubadala for new investments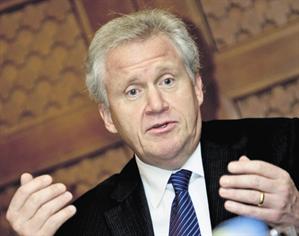 When a number of global corporate leaders gathered in Davos last week for the World Economic Forum, discussing the dynamics of the downturn and the road to recovery, General Electric's top brass was hobnobbing with leaders and policymakers here in the Gulf, ensuring the world's largest diversified conglomerate retained its edge over its numerous competitors.

"I get to come here at least once a year," Jeffrey Immelt, GE's Chairman and CEO, told a media gathering last weekend. "It's quite an important business for GE. Almost all of our businesses have some operation here; some opportunities here, and lots of partnerships and customers… It's a very vibrant region for us and very important," he said.

The region, Immelt said, is worth more than $10 billion (Dh36.7bn) in revenues and growing for GE. "I joined GE in 1982, and in 1983, the entire size of GE was $24bn in revenues. This region today is half of what all of GE was when I joined 28 years ago.

"So it just shows how the world is unfolding – we have to be willing to invest with the vision and scale that's commensurate with how big this region can actually be… It's my sense that by the time I retire – who knows – but in the next five, 10, 15 years, this region will be bigger than what GE was the day I started," Immelt said.

The UAE, he said, was a very important country for GE. "I think it's progressive, has had a tremendous impact on wealth creation, is very outward looking," he said when this journalist asked him to outline his thoughts on the country.

"Broadly speaking," he said, "when we come to this region, what we see is an immense desire to transfer the wealth created by oil prices into industrial diversification, job creation and economic impact. And that [desire] is being matched with programmes, actions, investments. As people in this region have taken those actions, GE is a good partner – we can provide technology and we view it with great positivity," he added, donning his salesman's hat.

Nevertheless, he made his disappointment apparent at GE not managing to clock a double-digit growth rate in the region in 2009. "We're disappointed for not growing 10-15 per cent in this region. We feel like we're not keeping up," he said. However, Immelt continues to see the region holding tremendous growth opportunities.

"We just see in every business – aviation, energy, oil and gas, water, healthcare… you go down the list of things that GE does – all of it has tremendous prospects in this region. And then you think about Africa – it's not without risks – but every country [in Africa] has electricity deficit, water deficit, healthcare deficit… new oil and gas finds are happening everyday offshore of western Africa. All of those hold potential. We should see excellent growth in this region," he said.

The global downturn has, nonetheless, had its impact on one of the world's largest and oldest conglomerates, with GE folding up about 400 facilities in 2009 and also shedding jobs. "We moved aggressively as the downturn took place. So it did have an impact on both the structure of the company and also on employment," Immelt admitted.

"I think, like most companies, it's never kind of a 'one policy fits everything' because at the same time as we restructured, we were adding new businesses and launching new businesses and new regions and things like that. We don't make projections about employment but what I would say is that when you look at things like order intake and prospects for financial services business etc, we see much brighter skies in 2010 than we saw in 2009."

Immelt outlined the conglomerate's regional partnership paradigm, with the commercial finance JV with Mubadala being "probably the biggest one" in the UAE. "We've had good relationships with Mubadala for a long time. We have very common interests so we came together in a series of joint ventures a year or so ago. The commercial finance JV is probably the biggest one. [It] became operational in the fourth quarter [of 2009]. We're quite encouraged by the prospects there. We've now ramped up, we've hired people, we're originating business… so we see that growing nicely in 2010 and beyond.

"We formed an education operation, a research operation, are part of Masdar City, are part of Invest Abu Dhabi… We made co-investments in energy… So we've got probably four major components of the relationship. I think there could be more in the future. Mubadala and GE are very like-minded. We share a strong relationship and we're just in the beginning stages [of the relationship]," Immelt said.

He also hinted that GE could partner with Mubadala – which he said holds "a relatively small but important stake" in GE – to invest in new regions, including Africa. "When you think about GE, we're really an infrastructure and financial services business. When you think about what Mubadala really is focused on, it's infrastructure and financial services. So, aviation has been a big focus, energy is a big focus. The potential to join forces and invest in new regions like Africa maybe…

"So we recognised early on that they [Mubadala] were a good, stable partner," he said. "We recognised early on the power of partnering the company of GE with what I would call a kind of sovereign multi-business company. We don't look at Mubadala as a sovereign wealth fund – we look at them as kind of a GE-parallel in the region. I think that's always what their aspiration has been," he added.

GE, which recently announced its 2009 results, has a significant amount of cash on its balance sheet but will be eyeing only "bolt-on" mergers and acquisition deals this year, Immelt said.

"I think we will do acquisitions this year. I think with the Comcast deal and with our internal cash flow, we'll have an immense amount of cash on the GE parent balance sheet – we're a company that's done hundreds of acquisitions in our history. So we constantly think about and study how to generate the best returns. We don't shy away from big acquisitions but doing $500mn, $1bn bolt-on acquisitions in businesses we know best is the best way to generate shareholder returns over a long period of time," Immelt said.

"We've done big deals [in the past] and I'm not against that but we just think that [bolt-on deals] are the sweet spot in terms of generating great returns now," he said.

Talking about further investment plans in this region, Immelt said: "I think JVs really make the biggest difference because people what to retain [a stake in] it. We will definitely be investing more in this region – definitely. Both from an M&A standpoint but also from a growth standpoint."


Reverse innovation

Immelt said the global conglomerate was betting big in the field of healthcare, where he saw reverse innovation (a process wherein products get developed first in and for the emerging markets and are then localised for the developed world rather than the other way round) playing a large role, especially in the Middle East.

"It's our thesis that if you take a business like healthcare, then in the emerging world, because there might not be a huge installed base, there might be new ways to do access programmes, low-cost screening procedures or something like that, in a place like the Middle East, the Gulf states. And because you don't have this installed base of the old way of doing things, we can find new business models, which then can go back to the US, France or Germany and be applied at a whole lot of lower cost.

"Our early forays have come out of China and India mainly because that's where we had the most experience and capability. But when we think about what potentially could happen here, there's no reason why reverse innovation couldn't come out of this region as well. One of the places where we're most intrigued is healthcare… and this region could be an interesting place to drive change."

Immelt said despite its huge size, GE endeavoured to maintain low costs and remain competitive in the global landscape. "We always want to be low-cost, we always want to be competitive. We're a very competitive company – so we're constantly benchmarking [against] our competitors, we're constantly looking at what the Chinese or Koreans or other companies are doing," he said.

"It's not that productivity ceases to be important – it is always going to be important – but at the same time, we grew R&D investment by eight per cent last year, and our R&D budget is going to go up by 15 to 20 per cent this year. We will be investing five per cent of our revenue in R&D; we'll launch probably 30 per cent more products in 2010 than we launched in 2009," he said. "Fundamentally, the company is about growth…"

The 'new normal'

Within four days of Immelt taking over the reins of GE from the legendary Jack Welch, the 9/11 tragedy struck in the US. And now with what Immelt calls the first "synchronous global recession since 1940", he has witnessed two successive recessions from the top in less than 10 years. On what lessons he drew from these, he said he saw this current level of volatility being characteristic of the "new normal", and the business world must be open to being "much more adaptable" than its has been.

"I'll make two comments: Maybe what we are seeing now… is normal. Maybe what existed earlier – the period from the 1980s until the end of the tech bubble, there was a period of great tranquillity.

"Since then, there's more volatility – the dynamics of globalisation have changed. So, in some sense, I think business people have to rewire the software around companies into a world where we don't wait for things to 'get back to normal', but we find ways to capitalise on this level of change and volatility which is becoming the new normal…"

"That's one part of my answer. The other is fundamentals. When there is a change, we have to change – but mainly companies are going to have to be more adaptable, much more adaptable in the world we live in today," Immelt said.
Keep up with the latest business news from the region with the Emirates Business 24|7 daily newsletter. To subscribe to the newsletter, please click here.
Follow Emirates 24|7 on Google News.