George Mitchell's tour of the Middle East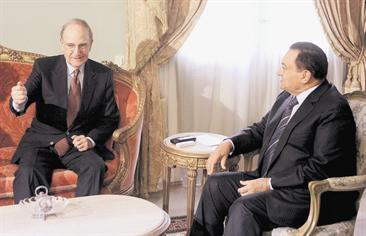 Why's the US Middle East envoy in the news? The Obama administration landed in the Middle East this week with US peace envoy George Mitchell, pictured, visiting key ally Egypt to discuss the fate of the Gaza Strip, just as fresh fighting broke a 10-day truce.

He began the first leg of the tour by sitting down with Egyptian President Hosni Mubarak (pictured below, right). On Wednesday he travelled to Israel and the West Bank. He will be in Amman today before going to Riyadh on Sunday. The former senator's trip to the Middle East, as well as two European capitals, is expected to focus on how to rebuild Gaza; to call for fresh dialogue between Israel and the Palestinians and to achieve co-operation between Hamas and Fatah.

Which countries is he visiting? Mitchell will be stopping off in Egypt, Israel, the West Bank, Saudi Arabia, Jordan, and the French and British capitals, Paris and London.

Why now? President Barack Obama has made clear the Middle East conflict will be a high priority as he tries to repair the United States' battered image in the region.

The new administration is quickly entering into Middle East diplomacy by trying to revive Israeli-Palestinian peacemaking.

Hamas and Israel declared separate ceasefires this month to end Israel's 22-day offensive in Gaza and are negotiating through Egyptian mediators on a longer-term truce.

The fighting has killed 1,300 Palestinians and 13 Israelis. Mitchell's trip aims to bolster a ceasefire brokered on January 18 and to tackle the humanitarian crisis in the Palestinian territory.

Will it make a difference? Reports from around the Middle East say the region needs more than just good intentions and assurances of peace-keeping to make a difference in the region.

Fawwaz Traboulsi, a columnist for the Lebanese newspaper As-Safir, said Obama did not show enough concern for the destruction of Gaza.

"If you want peace, you need to listen to the Palestinians who want self-determination and to build their own state. Are Americans ready to accept these demands?" he wrote.

Others are more optimistic. Gamal Abdel Gawad, a political analyst at the Al Ahram Centre for Political and Strategic Studies in Cairo, was quoted as saying: "Even though we don't have a clue about the substance of what will happen, there is a change in mood and temperament, and these are very important."
Follow Emirates 24|7 on Google News.