Governments torn between growth and deficits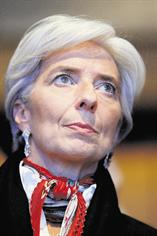 Sluggish economic recoveries and rising debt are forcing governments to grope for a delicate balance between spending money to spur growth while at the same time keeping the public finances in good order.

"It's difficult to find the balance because we want to finance the slight growth that we have while being sure that we are doing everything to reduce our deficits," French Finance Minister Christine Lagarde told the US network CNBC.

World leaders, notably US President Barack Obama and his French counterpart Nicholas Sarkozy, are anxious to demonstrate that they are moving on two fronts, one to combat unemployment and another to rein in spending.

"This two-pronged approach is aimed at different audiences, the general public and the markets," said Jerome Creel of the French think-tank OFCE.

Under heavy pressure from financial markets, certain countries such as Greece do not have the luxury of waiting.

Greek authorities, grappling with a huge debt and public deficit along with a loss of credibility in the global financial markets, must each day reaffirm their commitment to fiscal austerity in order to calm mounting investor anxiety.

For economist Charles Wyplosz of the Geneva-based Graduate Institute of International and Development Studies, "the market reaction is totally exaggerated.

"Even if certain countries are known for their budgetary indiscipline, you cannot tell them to absorb their debts when the (economic) crisis is still with us."

The International Monetary Fund has nonetheless warned that financial markets could still derail recovery by raising the cost of borrowing for households and governments.

For governments, credibility is the key to securing public acceptance of their pledges to impose budgetary rigour.

"France is a country with weak budgetary credibility because all of its commitments to the European Union are routinely ignored," said Jean Pisani-Ferry of the Bruegel research institute.

Nations seen as credible are those that have "specific institutions to manage their deficits," according to Wyplosz, who pointed to Scandinavian countries and Germany where the principle of balanced budgets is enshrined in their respective constitutions.

"If the message is 'we're spending now but later we'll stop spending' it is completely without credibility," he maintained.

He said establishing "institutional mechanisms to reduce debt when the moment arrives" was critical for certain states in southern Europe that could feel the full effects of bond market pressures.

The United States is different, according to Wyplosz, because "history shows that as soon as the debt grows, public opinion and Congress agitate for it to be brought down."
Keep up with the latest business news from the region with the Emirates Business 24|7 daily newsletter. To subscribe to the newsletter, please click here.
Follow Emirates 24|7 on Google News.